Best Tennis Movies of All Time
Published 12/16/2019, 9:33 AM EST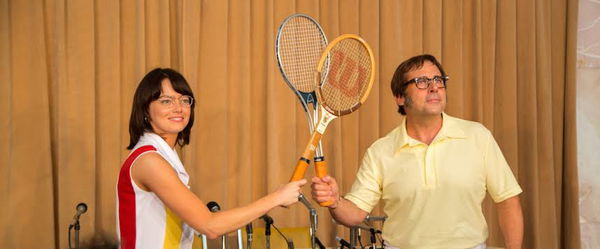 The modern way of telling stories is through movies. Movies have been able to tell numerous stories, especially about tennis players. Here are the best Tennis movies of all time.
This is a story about the dominating Swede Bjorn Borg and upcoming American tennis player John McEnroe. This story tells us about the historic 1980 Wimbledon final between the 2 rivals.
ADVERTISEMENT
Article continues below this ad
This match was regarded as the greatest match ever played. It featured an extremely long tiebreaker in the fourth set which was won by John McEnroe after saving 5 championships. However, he could not win the match losing the last set 8-6.
In the movie, the role of Bjorn Borg was played by Sverrir Gudnason and the role of John McEnroe was played by Shia LaBeouf. It was a good movie highlighting won of the most defining rivalries of tennis and is definitely one of the best tennis movies of all time
This movie featured won of the most iconic battles of all time – Bobby Riggs vs Billie Jean King. Bobby Riggs slammed women's tennis and demanded to face the top players. he first played Margaret Court who he beat easily 6-2 6-1.
Billie Jean King was then forced to accept his challenge. She beat him 6-4 6-3 6-3. This was viewed as the battle against male chauvinists.
The role of Billie Jean King was played by Emma Stone and the role of Bobby Riggs was played by Steve Carell. The movie was well regarded by a lot of people making it one of the best tennis movies ever.
Venus and Serena
This was a documentary on the greatest pair of sisters in tennis – Venus and Serena Williams. This was released in 2012 and featured both players.
It is a documentary that looks at the inside lives of both tennis players and how tBenus Williams dealt with her health problems. She was diagnosed with Sjogren's syndrome which is an auto-immune disease causing joint pain and fatigue.
Despite such problems, both sisters have had extremely successful careers. They have together won 14 grand slams and 3 Olympic gold medals. This is a truly inspiring story.
This is a documentary which is about 2 of the greatest women's tennis players – Martina Navratilova and Chris Evert. This documentary covers their intense rivalry and their lifelong friendship.
Both players have won 18 singles' titles. They have met 80 times which includes 60 finals and 14 grand slam finals. They were the 2 most dominating players at their time.
They were also best friends off-court. They would practice together, eat lunch together, and make plans to go to the tennis tournaments. This is a documentary that shows how you can be rivals and friends at the same time and is definitely a must-watch tennis movie.
This documentary celebrates the life of the great tennis player Arthur Ashe. He was the first black man to be selected on the US Davis Cup team and he led them to their first title in 5 years. He won 3 Grand Slams throughout his career.
ADVERTISEMENT
Article continues below this ad
Arthur Ashe wasn't just a tennis star. He fought against the system of Apartheid which was practiced in South Africa. He also raised awareness about HIV/AIDS which he had contracted. He set up the Arthur Ashe Foundation for the Defeat of AIDS and the Arthur Ashe Institute for Urban Health to fight AIDS.
This is a truly inspiring documentary is must-watch tennis movies.
Notable Mentions
ADVERTISEMENT
Article continues below this ad