Best Tennis Servers in the Men's Game
Published 01/13/2018, 3:09 AM EST
By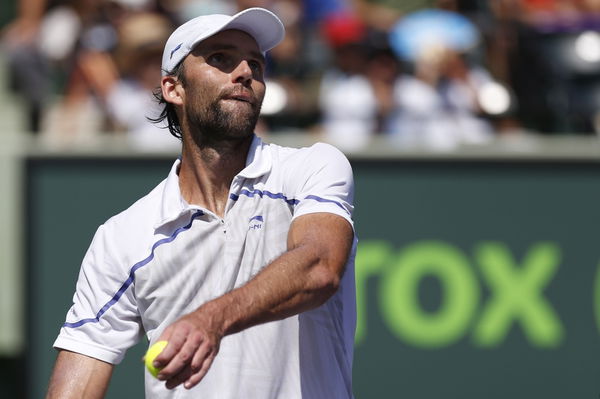 In the men's tennis, holding on to service games is probably one of the most important aspects. In the past, it served the purpose of starting the point. After spinning in their opening shot, players would rush to the net. The technology in rackets and fitness of today's players have made it much easier for returners to take advantage of weak serves. On the other hand, an elite serve can earn numerous "free points" and give players an upper hand in any match. So what does it take to be one of the best tennis servers?
In the game of tennis, only while serving does a player have both ball and racket under his or her control. Once a point turns into a baseline slug-fest, it is the opponent who determines where the ball lands for the server. But a server has every opportunity to set the game up for winning the point on his own. A good server with a decent game to go along with it has already won half the battle.
Let us now run through the list of top 10 best tennis servers in the men's game (starting from last to first).
ADVERTISEMENT
Article continues below this ad
Top 10 best tennis servers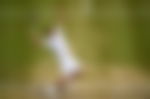 Marin Cilic has had a decent 2017, reaching his first Wimbledon finals. He couldn't have done it without his serve though. Landing more than 79 % of his first serves in, Cilic has been hot to handle on his service games. He will look for more of the same in 2018. Cilic stands on number 10 in our list of best tennis servers in the men's game.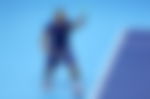 With a long wind back the Frenchman Jo-Wilfried Tsonga has one of the most powerful serves in the business. His favorite serve being straight down the 'T', the big Frenchman has won over 80% of his first serves that have landed in. Tsonga came close to qualifying for the ATP wprld tour finals, but fell short. He takes up the ninth spot on our list.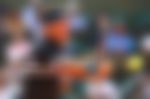 Del Potro is another player with a deadly serve. The Agentine has a win percentage of 87.61% and has clinched 672 games out of 767. Sadly, Delpo was sidelined by injury from the 2019 Australian Open. As it turned out, he was recovering from a fractured kneecap.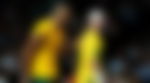 Nick Kyrgios is known for his drama on and off the court. For a player as young as Kyrgios, the guy is loaded with ammunition, and his serve is just one of his weapons. The young Australian hits over 12 aces/match on an average. The number of un-returned serves is also high, as the pace on his serve is too hot to handle. Nick Kyrgios stands tall in the fifth spot on our top-ten list.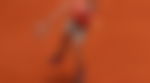 Alexander Zverev is another player who has an excellent serve. His huge serve and big groundstroke winners were even enough to defeat Novak Djokovic to win the ATP Finals title. He has a serve percentage of 82.95% and won 754 games from 909 during the 2018 season.
5. Roger Federer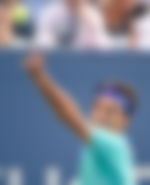 Federer does not get the consistent speeds of other players on this list, but his precision is matched by no one. He can place the ball in any spot of the service box and with any sort of spin he requires. Returners are not blown away by his serve as much as befuddled. Averaging less than 2 double faults a match, Roger Federer gets through his service games in a hurry.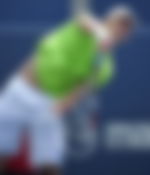 Anderson is not the only player who takes advantage of his height to create a massive serve. At 6'8″, Anderson serve comes at a trajectory different than most other players. Even with that height, Anderson leans into the court to use his weight and forward motion to propel the ball down. He has even been known to clear the back wall on a service ace!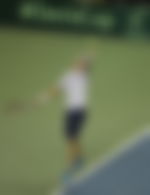 The 6'10" American is the second tallest player on tour. He uses his serve as well as anyone. Isner is content to hold serve, not waste too much energy in his return game, and try to best his opponents in a tie breaker. His strategy is most often effective. While Isner sits at number three on this list, his second serve is undoubtedly the best in the game. He often shoots aces even on his second serve. His height makes him one of the top 10 best tennis servers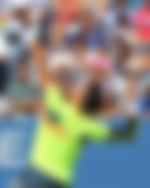 ADVERTISEMENT
Article continues below this ad
Milos Raonic has used his cannon arm to vault up the rankings. Funnily enough, he even dons a sleeve to heighten the aura of his delivery. Just before he tosses the ball, Raonic uses a lot of wrist turn to go with his power and height to get angles that are impossible to reach without guessing, and even with the right guess sometimes. The only thing that keeps him from number one on this list is a bit of a weaker second serve as compared to other top servers.
Ivo Karlovic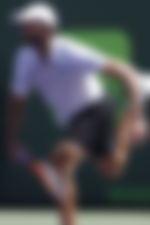 ADVERTISEMENT
Article continues below this ad
At 6'11", Karlovic is the tallest player on the ATP Tour. There seem to be no weakness in his serve. He hits with power. He is accurate. He can hit the angle. His height makes it seem like the ball is over the net as soon as he makes contact. Even the best returners in the game find it difficult to get his serve back in the court.
If you move forward, it is on top of you too quickly and if you back up, he hits the slice and it is unreachable. He serves an ace once every four points! It's no wonder that one of the first things elite players do when a draw comes out is to check where Ivo has landed. His serve alone makes him a threatening player and he follows it up with decent net play. When it comes to powerful serves in the game today, Karlovictop is one of the best tennis servers.