"Big part of leadership is accepting when you are wrong"- New Orleans Saints teammates back Drew Brees
Published 06/06/2020, 10:13 AM EDT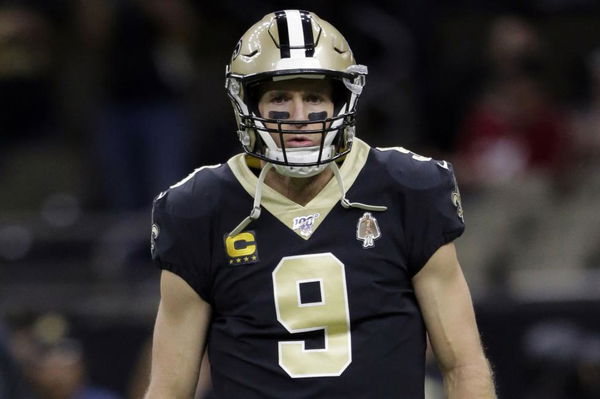 ---
---
New Orleans Saints Quarterback Drew Brees shared an Instagram post about his apology on disrespecting the flag. The 41-year-old shared this post after President Donald Trump wrote that Drew Brees should not have changed his opinion. After Brees corrected himself, his teammates flocked to his support on Twitter.
ADVERTISEMENT
Article continues below this ad
Drew Brees' Instagram post
Writing to President Donald Trump, Saints Quarterback elaborated about focusing on the real issues systemic racial injustice, economic condition, the brutality of cops, and judicial reform. He also stated that talking about the flag is not going to bring any reforms to the country.
ADVERTISEMENT
Article continues below this ad
On Instagram, Drew Brees wrote:
"To @realdonaldtrump
"Through my ongoing conversations with friends, teammates, and leaders in the black community, I realize this is not an issue about the American flag. It has never been. We can no longer use the flag to turn people away or distract them from the real issues that face our black communities."
Further, he said, "We did this back in 2017, and regretfully I brought it back with my comments this week. We must stop talking about the flag and shift our attention to the real issues of systemic racial injustice, economic oppression, police brutality, and judicial & prison reform.
"We are at a critical juncture in our nation's history! If not now, then when?
"We as a white community need to listen and learn from the pain and suffering of our black communities. We must acknowledge the problems, identify the solutions, and then put this into action. The black community cannot do it alone. This will require all of us."
New Orleans Saints players support Quarterback
Demario Davis, Linebacker for Saints, wrote that Drew Brees' apology showed the true leadership. Meanwhile, Saints' Wide receiver felt proud of his Quarterback.
Here is the series of tweets sent by New Orleans Saints players in support of their Quarterback.
A big part of leadership is admitting when you are wrong, and correcting your mistake. A model that All of America can follow, admit the wrong done to the black community, fix the issues and WE ALL move forward together. Let's all stand together now and find solutions. https://t.co/8RG3wMeiSd

— Demario Davis #56 (@demario__davis) June 6, 2020
Be a better ally…

— cameron jordan (@camjordan94) June 3, 2020
ADVERTISEMENT
Article continues below this ad
ADVERTISEMENT
Article continues below this ad
It seems like Brees' teammates feel much better after their quarterback came up with a sensible apology. This Instagram post of Saints' quarterback has surely worked on some of his teammates who tweeted in his support.