Big sister helps Downie turn despair into triumph
Published 10/28/2015, 4:11 AM EDT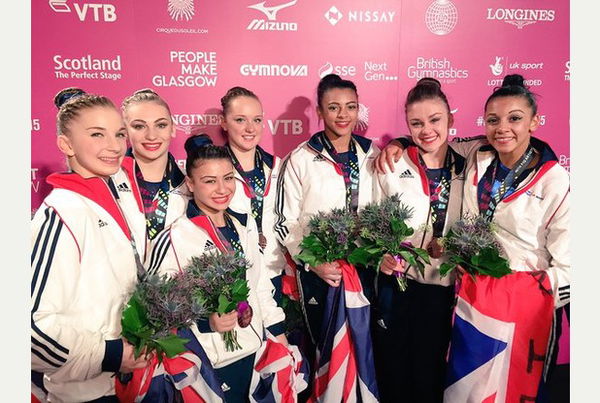 By Pritha Sarkar
ADVERTISEMENT
Article continues below this ad
GLASGOW (Reuters) – It took just two hours for 16-year-old Ellie Downie to come of age on Tuesday as she turned utter despair into joyous celebrations by giving Britain their first ever team medal at the gymnastics world championships.
Watched by a boisterous partisan crowd in the 8,000-seater Hydro Arena, Downie's world appeared to come crashing down when she fell on her hands and knees after losing her grip on the asymmetric bars during her opening performance of the evening.
ADVERTISEMENT
Article continues below this ad
With every score counting in the team final, the anguished look on her face told its own story long before the giant screen flashed up the judges' verdict of her performance.
A score of 13.033 did little to ease her pain but that is when big sister and team mate Becky Downie stepped in to whisper some words of comfort in her ear.
"Being the elder sister, you do feel it as I knew she would be disappointed," said Becky, the 23-year-old stalwart of the British team.
"No one wants that to happen because you put in so much work into it. It's not like you fall on purpose. So we just had to pull her together. I told her she could go to the beam and either throw it away or she can smash it and bring it back."
With her sister's words ringing in her ears, Ellie put in solid performances on the balance beam and floor exercise but Britain still trailed in fifth place behind the United States, China, Russia and Japan with one rotation to go.
Team mates Claudia Fragapane and Amy Tinkler revived hopes of a medal by nailing their vaults in the final rotation but Ellie knew she too would need an impressive leap if those dreams were to be realised.
She stared down the runway before starting her run then launched herself high into a soaring vault. When she landed both feet together with a thud, the hollering crowd jumped up knowing they had witnessed British history.
ADVERTISEMENT
Article continues below this ad
A score of 15.133 confirmed Britain had leapfrogged Russia and Japan into the bronze medal position with a combined total of 172.380.
Barely a couple of hours after registering the host nation's lowest score of the evening, Ellie was mobbed by her team mates after she earned them their highest mark of the final.
"She showed what a fighter she is and she should be really, really proud," said Becky, who joined her team mates in taking a lap of honour with giant Union Jack flags flapping in their wake.
ADVERTISEMENT
Article continues below this ad
"It's a massive, massive achievement."
(Reporting by Pritha Sarkar, editing by Peter Rutherford)