The Birth of Fergie Time: Heroics of Steve Bruce
Published 11/26/2017, 3:46 AM EST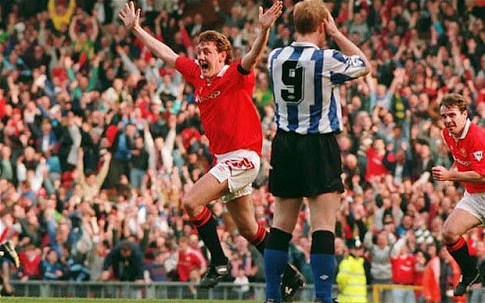 https://www.youtube.com/watch?v=4p3zfAHV0yI
ADVERTISEMENT
Article continues below this ad
The date- 10/04/1993 will forever be engraved into the memories of Manchester United fans. Nobody from the 40,102 spectators sitting and watching the game unfold towards its dramatic ending can ever forget the images of Sir Alex Ferguson rushing onto the pitch and jumping with joy and Brian Kidd literally jumping in ecstasy and then falling on his knees on the pitch, as Captain Steve Bruce's header, from a deflected cross by his pal Gary Pallister, scorched past the then English Goalie Chris Woods.
Nor can anyone forget the commentary. "Unbelievable" cried out the commentator. It was one of those moments of life, as a Manchester United fan, which you'll always remember. The cry of "Unbelievable" was the bell gong signifying the change of an era.
ADVERTISEMENT
Article continues below this ad
The true mark of a genius, a truly epoch creating gentleman, is that he does things well ahead of his times. Sir Alex Ferguson and his famous "Fergie Time" was coined first in a match between Manchester United vs Sheffield Wednesday (Ironically) in 1998 in which United were beaten 2-0 at Hillsborough to surrender their title to Arsenal. The joke was on Manchester United that day.
Fergie Time may have entered the parlance of sports writers in 1998, but the idea was born five years before, during another match between the clubs. Aston Villa were a point to the good in the title race of '92-'93. In the build up to the match and with just 6 games remaining, Sir Alex termed the match as a "win or bust" scenario. It was a crucial match. On 10 April 1993, Sheffield Wednesday visited Old Trafford and took a second-half lead through a John Sheridan penalty.
Manchester United: 0
Sheffield Wednesday: 1 (Sheridan(P)- 65′)
With time running out, Manchester United were staring at another title race blow up, 12 months after spectacularly surrendering the title charge to Leeds United.  A cataclysmic spring period in which Man United had gone from leading the championship by two points with a game in hand and just four games remaining, to finishing second after losing three in a row. The memories were fresh and with each passing second, were turning into reality.
Then came the trademark United onslaught in the closing stages of the game.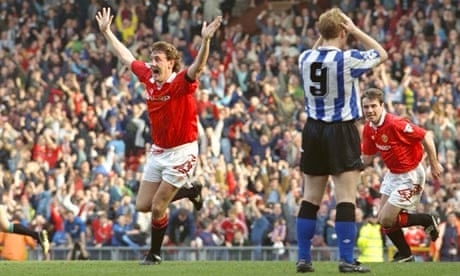 SIR ALEX FERGUSON RECALLS (taken from his autobiography, Managing My Life)
'We bombarded their goal and as the minutes ticked away we won yet another corner. I thought it might be our last throw of the dice… reminding us how brave he was, Steve Bruce stuck his head in front of one of their defenders and glanced the ball high into the far corner. '
Manchester United: 1 (Bruce- 86′)
Sheffield Wednesday: 1 (Sheridan(P)- 65′)

'From the moment we equalised, I stood on the touchline directing operations, cajoling the lads, praising them. Trevor Francis, the Wednesday manager, was signalling to the referee that time was up when we won a free kick.'
It was complacency on the part of Sheffield Wednesday as well. They should have been expecting a late rally from United given that they let a 3-0 lead slip up and goals from Cantona and Brian McClair secured an exciting and a vital 3-3 draw for United against Sheffield Wednesday when the sides met previously on The Boxing Day of '92.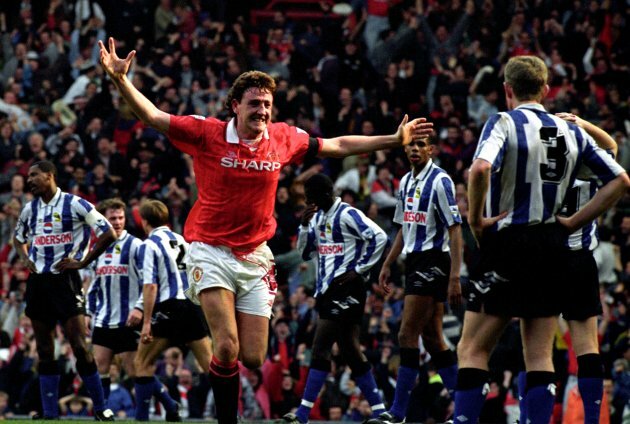 Throughout the epic 92-93 season, Eric Cantona was the source of inspiration for Manchester United. Whenever the team was playing ordinary and average football, he would conjure up something magical and incredible to lift his team from the ordinary to the extraordinary.
Speaking on New Years's Eve of 1993, Sir Alex said: "The 3-3 draw at Sheffield Wednesday was magnificent. It's as if the good old days were back and the major factor, as far as I'm concerned, is the Frenchman. Eric Cantona is so clever it's untrue and the lovely thing about special players is they're infectious. The things he tries, the others try, and it's the way the team are playing that's got middle-aged fans jumping about like two-year-olds."
However, if Cantona was the catalyst that made United title contenders, Steve Bruce's goals 23 years ago, today, gave United the belief to go on and finish the job.
10 minutes after the equalizer, deep into what would later be famously termed as "Fergie Time" and would have been synonymous to the indomitable spirit of Manchester United, came the second header. Steve Bruce's header bulleted past Sheffield's goalkeeper Chris Woods after Gary Pallister's cross had been deflected by Nigel Worthington. It was pandemonium all over Old Trafford, scenes that had not been witnessed since the days of Busby, Best, Law and Charlton. Manager jumping in joy. Asst. Manager on his knees on the pitch. Old Trafford was rocking. The comeback was complete.
ADVERTISEMENT
Article continues below this ad
It was divinely scripted.
The win against Sheffield Wednesday took United two points clear of Aston Villa with five games to play. They were not to be caught: United won their remaining games and finished ten points ahead of Villa.
Without those headers, it would have been an altogether different story today. Steve Bruce etched Manchester United's name into history books and in the process, etched his name into United's folklore.
ADVERTISEMENT
Article continues below this ad
One of the famous Steve Bruce-ish story is when Brian McClair was asked how he, ahem, prolongs himself when servicing Mrs McClair. He replied that he thinks of Steve Bruce.
"UNBELIEVABLE".