Blackout vs Warzone: Which Is the Better Call of Duty Battle Royale Game?
Published 04/10/2021, 3:18 PM EDT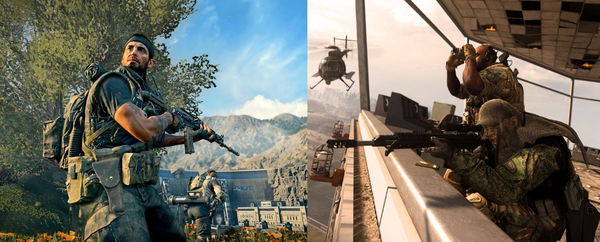 ---
---
Call of Duty is one of the biggest FPS franchises in the world. For years, the series revolved around a robust multiplayer experience along with the fun filled chaos of the Zombies mode. But with the rise of the Battle Royale genre because of games like PUBG, Fortnite and many more, fans expected Activision to release their own.
ADVERTISEMENT
Article continues below this ad
So when Black Ops IIII released in 2018, players were extremely excited to check out their take on a Battle Royale game with Blackout. The game was a very fun experience introducing fans from the COD community to a new genre. Soon after, they released the second iteration in the series with Warzone. Both titles have their advantages and disadvantages, but which game would players pick if they had a choice?
Blackout by a mile.

•Better looking map
•Proper BR looting system
•Separate levelling system
•fun updates and frequent maps changes

— MW2 OG (@TheMW2Ghost) April 10, 2021
ADVERTISEMENT
Article continues below this ad
Why is Call of Duty Warzone better?
When Warzone released in 2019, fans got to see a very grounded approach to a Battle Royale game. With weapons from Modern Warfare and the large map of Verdansk, players got a chaos filled experience right out of a Hollywood war movie. The gameplay is slower and realistic, which is a unique take compared to any other titles from the genre.
Warzone would be better imho if it had a loot and attachment system like blackout. Warzone is all about getting your loadout drop, loot is pretty much irrelevant.

— Nick Bartlett (@summoner1018) April 10, 2021
The weapons from Modern Warfare are very varied compared to Blackout, with lots of different options and loadout classes. It has its issues with weapon balancing, but when done correctly, the game feels competitive and entertaining to play. Players also get cross-play with other platforms and along with it the game is free as well.
Why is Black Ops IIII: Blackout better?
The Black Ops series from Call of Duty has always been an FPS game set in the future. The same goes with their Battle Royale game, Blackout. The game is much more colorful and visually pleasing to play with. Along with that, the movement is much more fluid with a lot more slides and faster gameplay.
2/ + you could easily challenge a whole squad no u have to run away like a little bitch because without full armor youre fucked…different TTKs.
+ Bulletdrop with snipers almost non existent in Warzone
+ no self res. Shooting down enemies several times can be frustrating..

— Kevkev (@Kevkev_91) April 10, 2021
ADVERTISEMENT
Article continues below this ad
However, the game's biggest success came with the looting system that is raved by the community. Players don't have a loadout drop unlike Warzone, and they have to fight players constantly or move to different locations to improve their weapons. Along with that, it also has an anti-cheat system which decreased the number of cheaters in the game drastically.
Both games have their pros and cons, making it very hard for the players to pick the outright winner. Fans of Blackout want the game to be free-for-all users and also become a cross-platform title. Meanwhile, fans of Warzone want the developers to fix the balancing and cheating issue which is rampant in the game. If the developers ever fix these issues, the debate will become much harder for fans.
ADVERTISEMENT
Article continues below this ad
Trending Stories