The Blatter Era continues
Published 05/30/2015, 1:31 AM EDT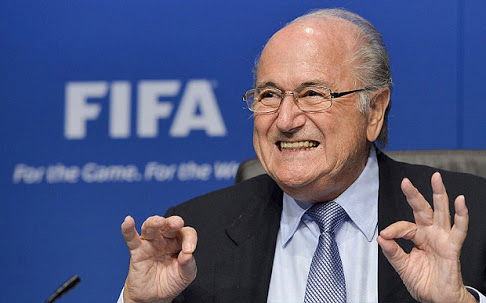 ---
---
Joseph S. Blatter, commonly known as Sepp Blatter was re-elected as the FIFA President for the 5th time in a row. In the 65th FIFA Congress, The Swiss who first took charge of Football's governing body in 1998 was up against Jordan's Prince Ali Bin al-Hussein. FIFA's election oversight panel had earlier confirmed that Blatter and three rivals – Prince Ali bin al-Hussein of Jordan, Michael van Praag of Netherlands and Portuguese legend Louis Figo were the formal candidates for Presidency.
ADVERTISEMENT
Article continues below this ad
A change of events led to Figo and Michael van Praag withdrawing from the elections leaving Prince Ali Bin al-Hussein as the only competitor to Blatter. Sepp Blatter received 133 votes to Al-Hussein's 73. According to FIFA rules, a second round should have been held for the two candidates, with a simple majority being sufficient for victory. However, before the second round of voting could commence Al-Hussein announced his withdrawal, therefore Blatter remains president of FIFA.
The Football world was rocked this past week when 7 FIFA officials were taken into custody after FBI raided a hotel in Switzerland. There was a huge uproar as many including UEFA President Michael Platini wanted Blatter to step down as the FIFA President. Not surprisingly, Blatter refused to step down. Sepp Blatter and many other officials have been under the scanner since FIFA awarded Russia and Qatar to host the 2018 and 2022 FIFA World Cups respectively.
ADVERTISEMENT
Article continues below this ad
Many see Blatter responsible for the high level of corruption which exists in FIFA but Blatter seems to have the votes under his belt and continues to be the strongest man in sport, controlling the biggest sport on the planet at his will. The African nations had earlier announced that they will be supporting Blatter while Sunil Gulati, who is the president of the United States Soccer Federation said that the US will support Prince Ali. Michael Platini had also stated that he expects most of UEFA nations to stand by Prince Ali.
Blatter re-election was not recieved warmly in many parts of the world especially England who have been criticising Blatter quite openly. Ex-England captain and Match of The Day Presenter Gary Linker voiced his opinion by tweeting, "As predictable as it is depressing. All those FIFA members that voted for Blatter have betrayed the game they are supposed to cherish." He also said, "The only way this revolting organisation will change is if the major football federations walk out. It's time to grow a pair of footballs." Meanwhile, ex Manchester United CEO, David Gill had earlier pledged that he won't be accepting the role of Vice-President of FIFA if Blatter is re-elected. Much of the British media now expects David Gill to be loyal to his words and reject the role of the Vice-President of FIFA. Henry Winter, Daily Telegraph Football Correspondent Columnist for the Sunday expressed his anger by tweeting, "Prince Ali withdraws. Blatter wins FIFA Presidential election. Four more years of hurt. Four more years of shame for the greatest game."