Boris Becker and Novak Djokovic: A successful endeavour, ends
Published 12/07/2016, 12:39 PM EST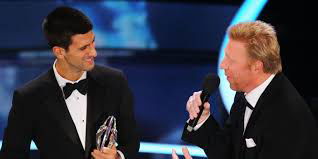 After three years and six Grand Slam winning runs, one of the most successful coach-player duo of modern tennis has split. There were speculations about this after Novak's dramatic dip in form in the second half of 2016. On Wednesday, the Serb took Facebook to break the news.
ADVERTISEMENT
Article continues below this ad
"After three very successful years, Boris Becker and I have jointly decided to end our cooperation. The goals we set when we started working together have been completely fulfilled, and I want to thank him for the cooperation, teamwork, dedication and commitment. On the other hand, my professional plans are now directed primarily to maintain a good level of play, and also to make a good schedule and new goals for the next season. In this regard I will make all future decisions."
When someone looks at Boris Becker and Novak Djokovic from a distance, it doesn't seem like that they have too many similarities. Boris became a grand slam champion at the age of 17 and was an early bloomer whereas Novak played the early part of his career  in the shadow of Roger and Rafa. Becker was a serve and volley-er whereas Djokovic is a baseline grinder. So when Becker and Djokovic decided to forge a partnership in December 2013 there were many  who questioned whether this duo would be able to compete with the much more compatible duo of Roger Federer and Stefan Edberg.
ADVERTISEMENT
Article continues below this ad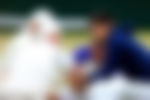 Djokovic came into 2014 with a relatively poor 2013 having won just one Grand slam and having lost 4 out of 5 grand slam finals (2 to Murray and 2 to Nadal). He was in a serious need to revamp his game style to take on the rejuvenated Nadal and an improved Murray. 
The story of Djoko-Becker didn't get a fairy tale start as Nole lost to Wawrinka in the Australian Open quarter-finals. Becker then had a hip surgery and couldn't travel with Nole for a couple of weeks. At the French open Djoker lost to Nadal in 5 sets. But the result of this partnership started to show at the Wimbledon 2014 at which Djokovic defeated Roger Federer in 5 sets in a match in which Djokovic showed tremendous mental capabilities which were synonymous with Becker's Game. This was the first area at which  Becker helped Djokovic: To play the big matches better.The Wimbledon finale proved to be a turning point in this partnership.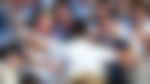 The duo went on to capture six of the eight slams – a run beginning at Wimbledon'14 – that included the historic triumph at Roland Garros. They had an incredible 2015 in which he won 6 masters title and had an 82-6 win-loss record. He won 10 of his 11 meetings against Murray, won all 5 of his matches against Rafa and had a 9-5 win-loss record against Roger. But surely the mental aspect was not enough to dismantle opponents in a way that Djokovic was doing.
The primary thing that Djokovic improved while working with Becker is his service. It comes as no surprise as Becker was one of the best servers of his era with serves measuring as high as 135 miles per hour. Djokovic now has added the sliced wide serve in the deuce court which helps him win a lot more cheap points. He has improved his ball toss which has a net deviation of just 20cm. But the most improved aspect of his serve is his ability to hit an aggressive second serve. On the break points on the ad court, his down the middle slice serve has done wonders for him. A testament to this fact is that in the US open final against Roger he saved 19 of the 23 break points he faced.
The other thing that Becker brought to the table was improving the net play of Djokovic. Djokovic's great stretching abilities always meant he had the ability to hit great volleys yet his insistence to stay at the backcourt denied him the opportunity to finish points quickly. With the coming of Becker, however, he became a more confident player at the net.
ADVERTISEMENT
Article continues below this ad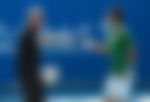 Becker has also brought variety to Djokovic's one-dimensional game. Djokovic has added the backhand slice and backhand drop shot to his artillery which has tremendously helped him in countering the play of players such as Roger Federer.
Last but not in a bit, the least Becker provided Djokovic with the much-needed experience of his legendary career which helped Djokovic redefine his own career. This partnership has forged into a friendship as Djokovic himself admitted after the 2015 Wimbledon that Becker had sleepless nights before big matches of Djokovic.
ADVERTISEMENT
Article continues below this ad
Novak has doubled his Grand Slam tally under Becker, from 6 to 12. Many would question this decision, but as Becker once mentioned, Novak has started taking interest in his off court life a bit more, and rightfully so. 2017 thus has a lot in store. With all eyes on Roger and Rafa's comeback, Novak without Becker would also be something to keep a close look on. Would he be half as successful without him? Well atleast in terms of numbers. We shall find out in a few months.