Bottas Hit With Penalty for Ricciardo Clash
Published 07/29/2018, 12:21 PM EDT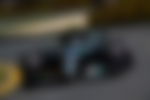 ---
---
Valtteri Bottas' weekend just got even worse as the stewards handed him a 10-second penalty for clashing with Red Bull's Daniel Ricciardo during the closing stages of the race.
ADVERTISEMENT
Article continues below this ad
The clash damaged Ricciardo's side-pod and dropped him further behind Bottas but the Finn's worn-out soft tyres meant that the Red Bull driver could still come back on his ultra-softs and hunt him down for fourth place.
The Mercedes driver had earlier clashed with Ferrari's Sebastian Vettel, whilst the German had gone ahead of him.
ADVERTISEMENT
Article continues below this ad
You can watch both clashes here:
https://www.youtube.com/watch?v=LoR21ayELhs
The start was not exactly ideal for Bottas, as Raikkonen and Vettel started extremely well, with Vettel overtaking his teammate in the second corner. The German was on the softs, so had a long stint ahead of him.
Bottas was on the ultra-softs and so he had to pit, allowing Vettel to take second place. Unfortunately for him, Raikkonen pit early too, changing to softs from his purple-walled ultras.
The Mercedes team had to react quickly as if they had not stopped Bottas at the time, both Ferraris would have been ahead of them. So his stop was essentially to cover for Raikkonen.
This came back to bite Bottas later in the race as Mercedes did not have a large-enough window to change his tyres again. He fought valiantly on his finished soft tyres but Vettel had newer tyres and eventually caught up to him.
ADVERTISEMENT
Article continues below this ad
Still Bottas refused to give up, going on the defensive and forcing the Ferrari driver to go to the outside. Vettel though attacked him through Turn 2 as well and was ahead of the Finn going into the corner when the clash happened.
Thankfully, both were safe enough to continue but in the process, Bottas lost two places as Raikkonen too overtook him in the other Ferrari. But some more action was yet to come for Bottas.
But he had to still contend with Ricciardo, who was bearing down fast and in an incident similar to Raikkonen's clash with Hamilton at Silverstone, Bottas locked up and went into Ricciardo, which is what earned him the penalty.
ADVERTISEMENT
Article continues below this ad