Bowling in Tandem- Cricket's greatest weaponry
Published 07/21/2017, 1:47 AM EDT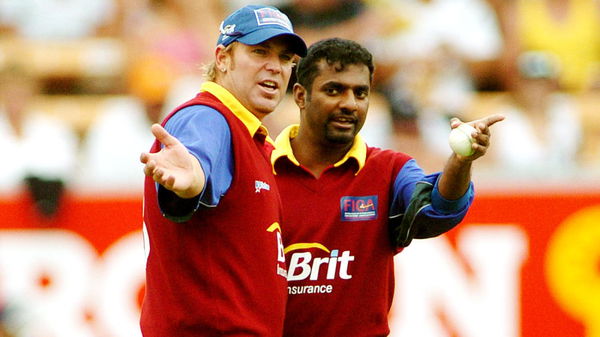 Nowadays Cricket is mostly a batsman's game and seeing this we mostly forget about the importance of the cricket's first act, also the game's only act of pure creation – Bowling. No matter whether it's Dennis Lilly, Michael Holding, Courtney Walsh, Bob Willis, Kapil Dev, Alan Donald, Imran Khan, Richard Hadlee, Jeff Thompson or Wasim Akram, fast bowlers have always been notorious among the batsmen for destroying the batting line ups. Nothing is more exciting than witnessing a fast bowler sprinting towards the batsmen and bowling them out. Fast bowlers from the very early days of cricket have been the trump cards for any fielding team. If we talk about spinners we surely know that Shane Warne, Jadeja-Ashwin single handedly won the matches for their team. Let's talk about some of the best bowling pairs we have witnessed in the Test matches.
ADVERTISEMENT
Article continues below this ad
Shane Warne & Glenn McGrath – 104 Tests in tandem: 1,011 wickets
In the 104 Tests, they played together, Glenn McGrath and Shane Warne came closer than any other pair to cracking 1000 wickets: in 197 innings, they collected 980. It was an irresistible combination – a metronomic fast bowler, and probably the greatest legspinner of them all – which did much to preserve Australia's near-invincibility during their brilliant careers.
ADVERTISEMENT
Article continues below this ad
This is the only pair to have taken a combined tally of 1000 wickets. Personally, while Warne ended only behind Muttiah Muralitharan on the list of highest wicket-takers in Test history with 708, McGrath remains the most successful paceman in Test history with 563 wickets. McGrath became the first Australian fast bowler to bowl in 100 Tests, and the efficient economy of his high action was perhaps the secret of his longevity. Not to mention that Shane Warne bowled the 'Ball of the century'.
Muttiah Muralitharan & Chaminda Vaas – 95 Tests in tandem: 895 wickets
It's no surprise to find Muttiah Muralitharan high on this list: in 163 innings together, the magical off-spinner and his left-arm henchman Chaminda Vaas claimed 879 wickets. Muralitharan and Vaas shouldered the burden of Sri Lanka's bowling on their shoulders for the better part of their careers. Murali was not a usual spinner who would give away a few runs to take wickets he would make the batsman dance to his tunes and wind them in his spin webs. His journey was not as easy as it seems often his vital variation the "doosra" would come under suspicion and was checked for his action by the ICC too but nothing could stop him and he came out clean and cricket was the winner in the end. Vaas' precision and Murali's wizardry played big parts in Sri Lanka establishing themselves as a top side and remaining there.
ADVERTISEMENT
Article continues below this ad
Vaas possessed the art of swinging and seaming the ball with skill and with a lot of success too. Vaas though had a lot of tricks up his sleeve but the one that got him most wickets would surely be his trademark delivery which was a very effective disguised off cutter. He also had reverse-swing in his armory. Vaas can be termed the best seamer for SriLanka.
Wasim Akram & Waqar Younis – 61 Tests in tandem: 559 wickets
This duo managed to take 559 wickets in 61 test matches.
 The stats speak for themselves and the stats are the reason that this pair is one of the best. Akram, the greatest left-arm paceman of all time and Waqar, among the fastest and most feared the game has seen, brought glory to Pakistan several times over the course of their celebrated careers. In the real world, they did not like each other very much but it was their skills that have added their names together for the lifetime. Wasim, inarguably – the finest left-arm pace bowler of them all, could swing it either way, while Waqar hit the bat with jarring energy.
Akram had that unbelievable unparalleled mastery over swinging and seaming the bowl and he would sometimes move the ball both ways in the same delivery. The batsmen could rarely play him when he was in his rhythm and if ever there was assistance from the wicket Akram would blow apart any batting line-up up against him. His deliveries came at high speed from a quick and ball-concealing action to hide the shine from the batsmen to make them helpless as to which way the ball would swing, and is backed by the threat of a dangerous bouncer that could come out of nowhere.
ADVERTISEMENT
Article continues below this ad
Waqar's ability to move the ball was impeccable and we can term him the man who bought this rever the e into conventional swing. The late in swing deliveries that he bowled with immense control and pace had done in many the way he changed the pattern of fast bowling which was once focused on bowling at the body of the batsmen short of length Waqar changed it forever with his aiming at stumps deliveries. Waqar and Sachin Tendulkar shared a Test debut at Karachi in 1989, and he took the honors by bowling Sachin for 15.