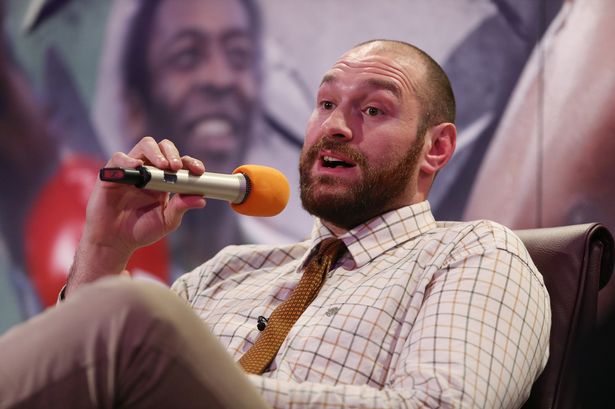 Tyson Fury (30-0-1) is scheduled to fight Deontay Wilder in an upcoming bout on February 22. Both boxers will meet for the second time after their first bout ended in a controversial draw. To this day, fans still believe that Tyson Fury won the first fight in December of 2018.
Watch: Deontay Wilder vs Tyson Fury Full Fight With No Commentary
Tyson Fury is currently undefeated and the lineal heavyweight boxing champion of the world. His opponent, Deontay Wilder is also undefeated and the current WBC champion of the world. Fury is known for his incredible skills in the ring. His current record stands at 30 wins with 1 draw.
Wilder (42-0-1) may not be known for his pure boxing skills but he is extremely powerful. One punch by Wilder is enough for anyone to sleep. 41 of his 42 victories came through KO.
Tyson Fury lashes out at Eddie Hearn
Fury is known for his trash talk. Throughout the build-up of the fight, he has made some absurd claims and statements. In one of the statements, he claimed to knock out Deontay Wilder. Boxing promoter Eddie Hearn did not buy it. He stated that Fury will win the fight but not via a knockout. When Fury received the news about Hearn's comments, he wasted no time to fire back at Hearn.
"You know what? I don't really care what Eddie Hearn says because Eddie Hearn is a p*ssy."  Tyson Fury told The Main Event Show on SB Nation.
Fury did not stop at that. He called out Anthony Joshua for not being man enough to face Wilder. He said that it took an old fat bald-headed fella to stand up for his country.
Fury does have a point here. There were many opportunities to make Wilder vs Joshua Happen but due to boxing politics, it never came to fruition.
Apart from that, will Fury be able to knock out Wilder and will he take on Anthony Joshua after that?
Watch Anthony Joshua Set the Stage on Fire With His Rap Skills