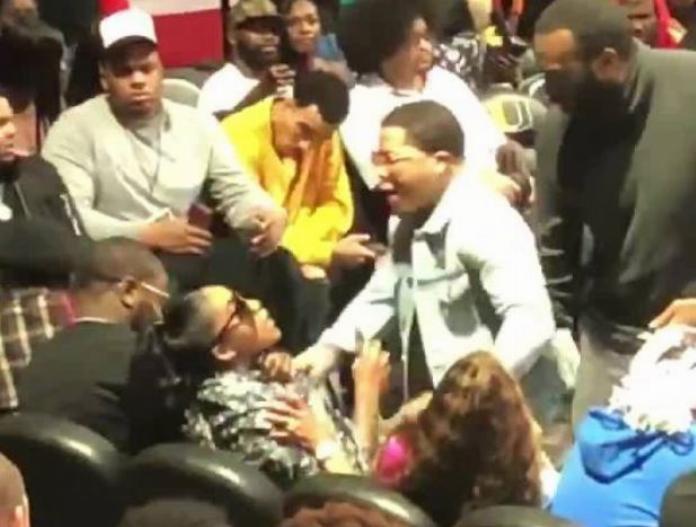 American boxer Gervonta Davis was spotted getting physical with Andretta Smothers. A video surfaced on social media wherein Davis was seen grabbing Smothers by her throat and dragging her away. Gervonta Davis and Andretta Smothers have a daughter named Gervanni who was born in April 2018.
TMZ reported that Davis was with Smothers at a charity basketball game in Miami. The reports quote local witnesses saying that the duo were yelling at each other before getting physical.
An initial video post on Twitter, dated February 2, 2020, showed Davis grabbing Smothers by her throat. He then dragged her to the exit door.
Gervonta Davis rolled up ready to straight choke slam shorty pic.twitter.com/NLYHwzYI0i

— RIP Kobe Bryant🇨🇻🇬🇼🅙 (@mr_Iuares) February 1, 2020
Later, Davis clarified via Instagram that although he was a bit aggressive, he did not hurt Smothers whom he called "the mother of my child."
His Instagram story read: "I never once hit her.. year I was aggressive and told her come on…
"That's the mother of my child, I would never hurt her other than that happy New Years… January was trash."
TMZ also reported that there were no arrests involved in the incident.
😲 Footage has appeared of Gervonta Davis gripping a girl by the neck and dragging her away.

No-one intervenes…. pic.twitter.com/0RDQlVbXdw

— All Of The Belts 🥊 (@AllOfTheBelts) February 2, 2020
Gervonta Davis has been previously issued an arrest warrant
Davis, a two-weight world Champion, has previously been accused of physical assault and an arrest warrant was issued on the same. The incident was alleged to have taken place in 2017 but the people involved in it are unknown.
Also read: Khabib Nurmagomedov Will Fight Conor McGregor Under This Condition
A year later, he was arrested in Washington for a fight with another man. Reports suggested that a he took on a man for a fist fight and exchanged punches.