Floyd Mayweather Lauds NBA All-Star Paul George for Bouncing Back From Gruesome 2014 Injury
Published 12/17/2021, 3:00 PM EST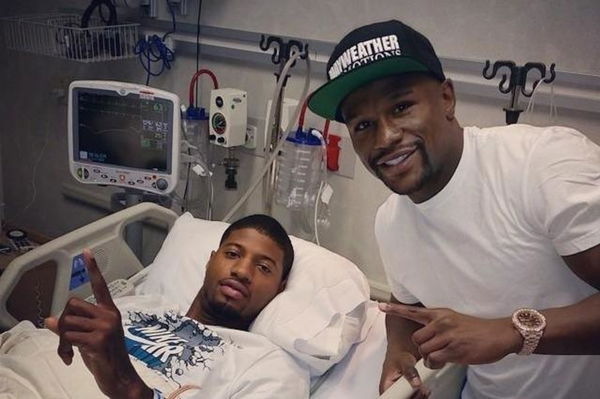 Boxing's 'Pretty Boy', Floyd Mayweather, recently dedicated an Instagram post to lauding seven-time NBA All-Star, a six-time member of the All-NBA Team, a four-time member of the All-Defensive Team, and current LA Clippers guard, Paul George.
He posted a picture of him shaking the NBA star's hand and wrote what he recently told Paul George; he wrote, "I was telling @ygtrece that I'm proud of him. He dealt with a severe injury and came back stronger,".
 

View this post on Instagram

 
ADVERTISEMENT
Article continues below this ad
Floyd also compared himself to an NBA player, "I also let him know I'm just like an NBA player because I ball everywhere I go. Lol,".
Paul George and 'Money' Mayweather go way back and have been friends for quite a long time. The undefeated boxing icon praised him for bouncing back from a "severe injury"; he has seen George push through extreme adversity over the past seven years and grow further in the sport.
Floyd Mayweather was there for Paul George in 2014
During the fourth quarter of a Team USA basketball scrimmage in 2014, Paul George attempted to go up to challenge a James Harden lay-up. As he did so, George's leg got caught up on the stanchion and his momentum carried him in the opposite direction, literally snapping his leg out of his skin.
For an NBA All-Star, such an injury could have easily ended his career right then and there. However, Paul George's champion mindset and the people around him allowed him to build himself back up from scratch.
ADVERTISEMENT
Article continues below this ad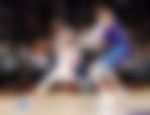 Among a massive out-pour of support towards George, even boxing star Floyd Mayweather reached out to support a friend in his darkest time. Mayweather met George at the hospital after the doctors completed a successful surgery on his leg.
ADVERTISEMENT
Article continues below this ad
Paul George acknowledged Mayweather's gesture in an Instagram post. He wrote, "Appreciate the champ @floydmayweather visiting me in the hospital. Gave me some great advice and kept my spirits high!! Appreciate you once again big bro! #TBE #TMT,".