12 Fights That Shaped Floyd Mayweather's Legacy
Published 05/17/2021, 1:12 AM EDT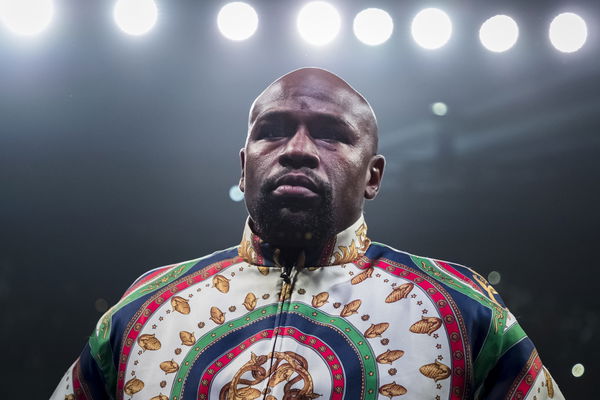 ---
---
Floyd Mayweather enjoyed a wonderful career in the sport of boxing. 'Money', who hung around the game for almost 2 decades, outclassed every opponent he faced. From 1996 to 2017, there were a few opponents who gave 'TBE' supreme tests within the ropes. However, Mayweather, who tapped into his vast fight IQ, came out on top even in the biggest of battles.
ADVERTISEMENT
Article continues below this ad
In this list, we look at some of the most exemplary fights of Mayweather's career.
ADVERTISEMENT
Article continues below this ad
12 Boxing bouts that shaped up Floyd Mayweather and his legacy
1) Floyd Mayweather vs Manny Pacquiao
In 2015, Mayweather went all out against Manny Pacquiao. The Filippino Senator gave a rugged outing to the American boxer and even controlled the ring for a few minutes. Yet, Mayweather's class and aura were too much to handle for 'Pacman'. As a result, the undefeated boxer ended up on the winning vertical.
2) Floyd Mayweather vs Marcos Maidana
Marcos Maidana came in as an underdog in this clash. Despite that, once the fight began, he totally staggered Mayweather, his team, and the fans. Maidana went too fast on Mayweather and landed some thrilling strikes. Even 'TBE' took a bit of time to decode the former's style, but eventually, he understood his game plan and won this clash.
Mayweather even re-matched the Argentinian in 2014 and scored a gratifying win again.
3) Floyd Mayweather vs Canelo Alvarez
'Pretty Boy' faced a young gun in Canelo Alvarez in 2013 and displayed his class. In this 12-round war, he totally overshadowed Canelo to win an absolute thriller, thus adding another championship to his name.
4) Floyd Mayweather vs Miguel Cotto 
Another boxer, who presented 'Money' with a stern in-ring test, was Miguel Cotto. The latter was a sheer oppressor in the fight. But Mayweather employed his slick defense to dodge the heat coming off his adversary's hands. Moreover, the Michigan native landed some solid strikes to win continuous rounds and the fight itself.
5) Floyd Mayweather vs Shane Mosley
In his prime, 'TBE' locked horns with Shane Mosley. Many expected the latter to completely overpower Mayweather. Instead, Mayweather, who took everyone by surprise, beat Mosley to prove his mettle in the fight world.
6) Floyd Mayweather vs Ricky Hatton
Ricky Hatton went in with full confidence against Floyd Mayweather. In fact, in the first few rounds, he seemed to be getting heavy for the American boxer. However, the tables turned mid-fight and Mayweather attained a solid T/KO win.
7) Floyd Mayweather vs Oscar De La Hoya
Looking to elevate his boxing stint, young Mayweather took on his foe, Oscar De La Hoya. This fight had the attention of the entire world and it certainly stayed true to the hype.
The favorite, Mayweather, won this bout fair and square, proving why he was the most terrifying prospect back then.
8) Floyd Mayweather vs Zab Judah
The 'Pretty Boy' was extremely lucky to get his hands on legends of the game at such an early stage of his career. That said, going up against Zab Judah, Mayweather seemed extremely confident. He applied constant pressure and pulled off the upset with a magnificent win.
9) Floyd Mayweather vs Juan Manuel Marquez
While 'Money' was still climbing ladders of success, he again went up against a veteran of the game in Juan Manuel Marquez. The underdog, Mayweather, fared well in this fight. He employed his defense and power to add another feather to his cap.
10) Floyd Mayweather vs Arturo Gatti
Gatti was one intimidating boxing talent, and he had every ability to T/KO Mayweather. But the latter captivated everyone's attention with the way he approached this fight. With constant domination, 'TBE' scored an RTD win over the scary Arturo Gatti.
11) Floyd Mayweather vs Jose Luis Castillo
In this fight, Mayweather applied the strategy of punching and not getting smothered in return. This plan worked perfectly, enabling the young Mayweather to win his bout comfortably.
ADVERTISEMENT
Article continues below this ad
12) Floyd Mayweather vs Diego Corrales
In 2001, Mayweather boxed Diego Corrales for the WBC super-featherweight title. Corrales, who had a substantial undefeated streak, was the favorite in this fight. But a young Floyd Mayweather, who went all guns blazing in this fight, snapped Corrales' unbeaten streak.
ADVERTISEMENT
Article continues below this ad
Out of all these wins, which fight do you actually feel shaped up Mayweather's legacy?