25 Inspiring Quotes From Canelo Alvarez
Published 05/04/2021, 7:00 PM EDT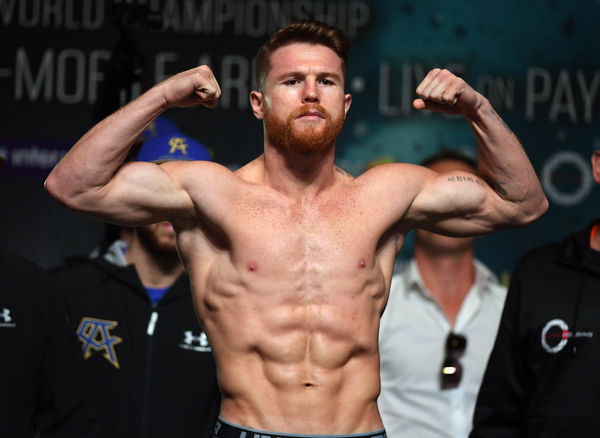 ---
---
The world knows Canelo Alvarez for his astonishing in-ring skillset. Over the course of his boxing run, the Mexican boxer has proved his mettle in every boxing bout he's taken. That said, he is definitely one of the prime boxing prospects of all time who has gathered everyone's attention for obvious reason.
ADVERTISEMENT
Article continues below this ad
Additionally, Saul Alvarez looks to inspire the upcoming generation, not just with his boxing skills but also with his words of wisdom and outside the ring activities.
With that, we take a look at the most inspiring words from Canelo Alvarez.
ADVERTISEMENT
Article continues below this ad
25 sublime quotes from Canelo Alvarez
1) "I've learned from every single fight, every single opponent – some great fighters."
2) "For the entirety of my career, I have taken the fights that no one wanted because I fear no man."
3) "You can have the best training, but just feeling full can make you sluggish and cause you to lose."
4) "I'm the kind of person who visualizes things before doing them." 
5) "I'm focused on being the best, making history." 
6) "I'm honored and blessed by God to be in the sport I love, and I want to accomplish all the goals I set in the sport of boxing – to be successful and make history."
7) "If you don't take an opponent serious, they surprise you."
8) "I'm very happy with what I've accomplished, but we're going for more."
9) "I fought the best; I've never been afraid of anyone."
10) "The more desperate you are, the more mistakes you make."
11) "My job is to train hard, go fight, and do my best."
12) "It's a big responsibility and great motiviation to be a Mexican fighter who is admired, and I thank God for the support I get from Mexicans on both sides of the border."
13) "Sometimes, once a fight starts, you have to do what you have to do to win."
14) "Athletes can definitely have an impact on society. And it's great that athletes can be a part of uniting the population."
15) "I started boxing because of my brother. And then I came to admire the all-time greats, like Roberto Duran and Muhammad Ali. I'd say I admired Ali more than any fighter in my life."
16) "I train to fight, to win."
17) "I don't prepare myself for a specific fighter. I don't choose a fight to prepare myself for another fighter."
18) "When I was 15 years old, I left school and became a professional boxer."
19) "I take the time to look at my videos after a fight to see not what I did right but what I did wrong, to learn from those mistakes."
20) "There are great legends and great fighters in the history of Mexico, and there will be more to come."
21) "I just want to create my own history."
22) "I was made fun of at a young age. I would fight a lot in the streets, and it has a lot to do with the way I am today. It helped my development as a fighter, but what can I say?"
ADVERTISEMENT
Article continues below this ad
23) "When I first stepped into the boxing gym, I loved it. I knew it was what I was going to do."
24) "I like working with my own body weight, and I just do the best job I can to be healthy and strong, both before and after a fight."
25) "I look like this for a reason. I was born this way. It was God-given."
ADVERTISEMENT
Article continues below this ad
Out of all the aforementioned quotes, which one did you like the most?
Trending Stories