3 Best and Worst Fights From Mike Tyson's Phenomenal Record
Published 11/28/2020, 12:10 PM EST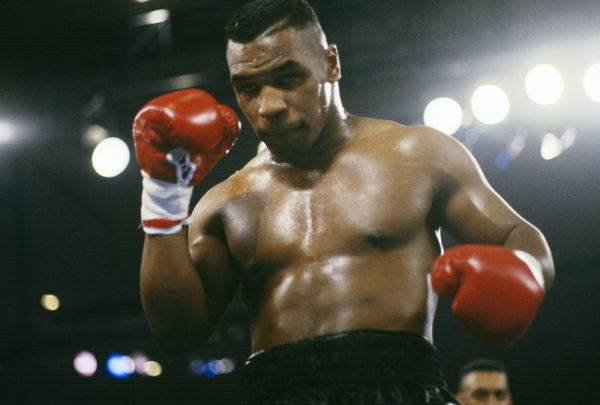 ---
---
Mike Tyson, the former world heavyweight champion, is one of the greatest to have laced up the boxing gloves. However, he has always been more than just an athlete.
ADVERTISEMENT
Article continues below this ad
Touting himself as one of the scariest punchers ever, Tyson has roared throughout the heavyweight division from the mid-80s to the late 90s. He became the youngest man to grab the heavyweight belt at 20, a record that remains untouched.
That said, he has appeared invincible in the sport until he suffered a series of major upsets. Although he has bounced back several times from losses, some defeats were seemingly too harsh to go away.
ADVERTISEMENT
Article continues below this ad
Even though Mike Tyson has a return against Roy Jones Jr at 54, he has already proved his worth as an elite. The 2-time World champion has seen immense success in his prime and remains to be one of the most popular superstars of boxing.
Here's a look at some of the best and worst fights of his career before heading towards his much-anticipated return on November 28.
Mike Tyson- The Best Fights of his life
Tyson has a professional record of 50 wins and 6 losses, where he has knocked out 44 opponents. Thus, he will never run out of glorious memories to look back at. Here's the best three out of them.
Vanquishing Trevor Berbick in 1986
The 20-year-old Mike Tyson took only two rounds against the champion (then) Trevor Berbick to reclaim the WBC world title. It was a lopsided win as Tyson unloaded aggression since the bell rang.
While Berbick could surpass the heat in the first round, Tyson ended the show in the second with a flush jab. It will always be one of the biggest wins for Tyson.
Taking the soul out of Frans Brotha
Tyson came back to the win column from back-to-back losses against Holyfield when he faced Brotha in a non-title fight. Although Tyson struggled in the primary stage, he still claimed a knockout.
Brotha, who appeared confident as the fight went on, couldn't survive Tyson's short right hand in Round 5. Despite putting on a show, Brotha was floored with one shot.
Avenging Muhammad Ali's loss
Tyson beat Larry Holmes in a clinical 4th-round knockout when the duo collided in 1988. Although Holmes is a great veteran who has beaten Muhammad Ali, he couldn't put up too much of a fight against Tyson.
While 'Iron' has always considered Ali to be his idol, claimed of avenging his loss that night.
Mike Tyson- The worst losses of his career.
Tyson has seen defeats only 6 times in his career, but some of them were just harsh. They affected his dominance and glory. However, they couldn't put a mark on Tyson's in-ring legacy.
Busted by James 'Buster' Douglas
In 1990, Tyson suffered his maiden defeat against the underdog Douglas. The knockout specialist got knocked out in Round 10, turning it into a huge upset in the history of the heavyweight division.
However, Tyson returned in fashion and continued his dominance streak for many more years after the loss.
Evander Holyfield and the ear bite
While the first encounter clearly exposed Tyson's flaws, the rematch became one of the biggest controversial events ever for its vile conclusion.
Tyson had bitten off a piece of Holyfield's ear while they were in a clinch. That sparked a brawl that forced the administrators to end the bout, and Tyson was deprived of the win owing to a disqualification.
Not taking out Lennox Lewis' heart
ADVERTISEMENT
Article continues below this ad
Tyson made scratchy comments about Lewis and his family before their fight in 2002. He also vowed to defeat the Briton easily inside the ring. However, 'The Lion' knocked out Tyson in Round 8.
It was a tremendous loss for Tyson, which came at the dusk of his career. After that, Tyson took 3 more fights and ended his career after losing 2 of them.
ADVERTISEMENT
Article continues below this ad