5 Best Moments From Tyson Fury vs Deontay Wilder Presser
Published 10/07/2021, 3:08 PM EDT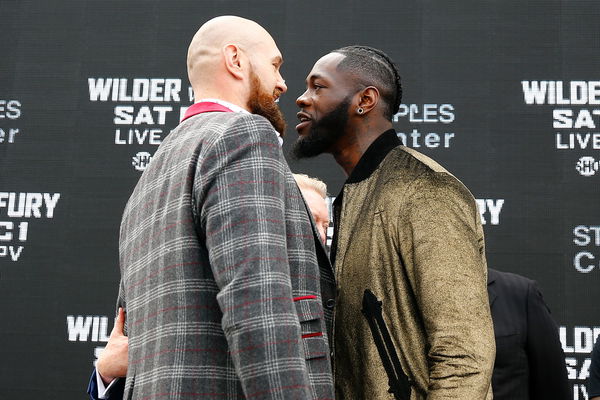 ---
---
The pre-fight press conference between Deontay Wilder and Tyson Fury took over the internet. The foul-mouthed, furious row between the two heavyweights left fans entertained. Today we take a look at the 5 best moments from the pre-fight presser between Deontay Wilder and Tyson Fury.
ADVERTISEMENT
Article continues below this ad
1. Deontay Wilder's 'excuse book'
Deontay 'The Bronze Bomber' Wilder said he did not regret any of the accusations he made against Tyson Fury after their second fight. Wilder accused Fury of tampering with his gloves. Fury's reply almost shut Wilder up. "He accused me of everything," he fired back.
ADVERTISEMENT
Article continues below this ad
"Maybe he would have come out with one excuse. It would have been believable, and I beat him the first time after three years out of the ring. I absolutely obliterated him in the second fight. I hope you've got your excuse book, dosser."
2. Deontay Wilder is 'copying' Tyson Fury
Tyson 'The Gypsy King' Fury says Deontay Wilder is copying him. "In fact, he's even copying me look, he's got no t-shirt on today, he learnt that from me. I'm famous for wearing no shirts in press conferences and having no shirts on. This guy is copying me all the time, and I know I'm an inspiring person and everybody wants to be like T."
"But you know, it's supposed to be Bronze Bomber, do your own thing, stop copying the Gypsy King." This little playground insult is not what fans expected from Fury, but it's what they love to see from their British heavyweight champion.
3. Wilder's war proclamation
Deontay Wilder gave the fans and Tyson Fury a war proclamation on stage during the press conference. "What more that I can say that hasn't already been said you know. I just tell you guys to prepare yourself, prepare yourself on the battlefield, and get ready for war. As you see, I'm wearing my red outfit, so I want it back in blood, and I'm looking forward to it."
4. Tyson Fury calls out Wilder's lies
Tyson Fury went off on a rant against Deontay Wilder, replying to his cheating accusations. Fury asked Wilder, "If I only won because I cheated, what was the point in changing everything and doing all this other work? Can anybody answer that question? I know he can't, he doesn't have the brains to." 
5. Furious row get the face-off canceled
Each fight has a scheduled pre-match face-off where both fighters square each other up, look each other in the eye, and talk to each other for the last time before the fight. However, due to the tension in the air built up during the last 10 minutes of the press conference, promoters felt it wouldn't be the best idea to go ahead with the face-off.
ADVERTISEMENT
Article continues below this ad
In the last 10 minutes of the press conference, Fury and Wilder got into a furious row, continually going back and forth with the host not able to speak a single word.
The two heavyweights looked like they were about to go at each other right there. The promoters called the face-off due to safety reasons so that neither of the fighters gets injured just before the fight.
ADVERTISEMENT
Article continues below this ad
What was your favorite part of the press conference?
Watch this story: Tyson Fury vs. Deontay Wilder 3 Press Conference Highlights: Heated Arguments, No Face-Off, and More