5 Inspirational Tyson Fury Quotes and the Hidden Meaning Behind Them
Published 05/15/2021, 2:00 PM EDT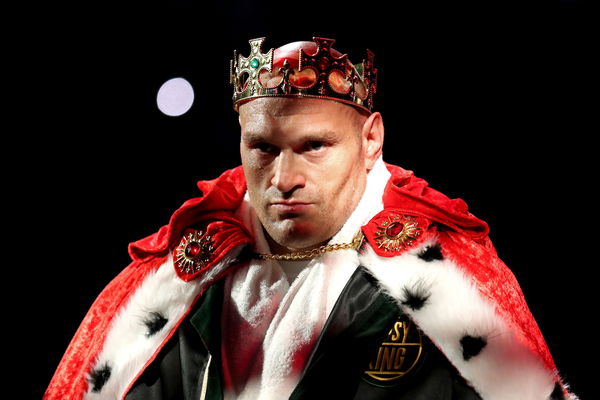 ---
---
Among all the sturdy heavyweights, Tyson Fury has made a place of his own. He is an undeniable face of the big men's division, who has captivated everyone's attention with his sheer in-ring brilliance. Also, he's going super-strong with his boxing reign and is showing no signs of slowing down.
ADVERTISEMENT
Article continues below this ad
A few years back, Fury stepped inside the boxing ring after overcoming some personal struggles. He gave his best in all of his fights since then and set a classic example for one and all.
As he faced it, 'The Gypsy King' knows exactly how a person feels when they go through some form of depression. That said, he now wishes to help people tackle the mental battles and unleash their best versions.
ADVERTISEMENT
Article continues below this ad
Recently, Boxing on BT Sport released a compilation video of Fury's top-notch quotes on the eve of Mental Health Awareness week. With that, let's take a look at some inspirational Tyson Fury quotes that'll truly help people.
Words of wisdom from Tyson Fury
1) "It's getting fans to know the real Tyson Fury" 
Tyson Fury enjoys being transparent to showcase his real self in front of the fans. Although he went through some stern battles outside the ring a few years back, Fury doesn't avoid sharing them with his fans.
2) "The most pleasure I get in my life, is taking my kids to school and picking them up" 
'The Gypsy King' is a family man. He enjoys his off time with his kids, parents, and wife. With all that he has accomplished, the undefeated boxing champ can have limitless luxuries to enjoy his life. Yet, he finds happiness in the smallest of things, and picking his kids from school is one such thing on his list.
3) "I was very motivated and very determined to get back where I was" 
After beating Wladimir Klitschko in 2015, Fury went into oblivion for almost three years. As he wanted to make an astonishing comeback, he remained highly motivated and determined.
4) "If I can come back from where I come from, then you can do it too"
In 2018, Fury fought the intimidating Deontay Wilder. Many expected 'The Gypsy King' to lose this bout inside 7 rounds. But Fury went toe-to-toe with the then WBC champ. In fact, 'The Bronze Bomber' even struck him with a massive right hand in round 12. Astonishingly, 'The Gypsy King' regained a vertical base before the count of 10 and became the first man to deny Wilder a win.
ADVERTISEMENT
Article continues below this ad
5) "I wouldn't be alive if I didn't change me back then" 
The Lancashire native got his boxing derailed because of depression. He became overweight and didn't find the motivation to do anything. Yet, there was something in him that pushed him to uncover his best self and showcase it to the entire world.
ADVERTISEMENT
Article continues below this ad
Out of all these quotes, which one impressed you the most?