A Bold Prediction Tethers Boxing Superstar Canelo Alvarez to UFC Phenom Khamzat Chimaev
Published 04/08/2022, 11:33 AM EDT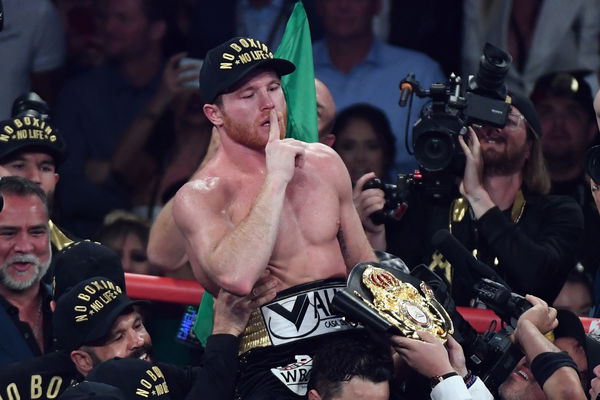 Canelo Alvarez is a superstar of boxing, as he has impressed the boxing fraternity through his exceptional boxing skills. In the same vein, he is the most discussed topic in the boxing fraternity. In a recent interview, Bernard Hopkins shared his views about the attributes of Canelo Alvarez, which resemble the UFC fighter, Khamzat Chimaev.
ADVERTISEMENT
Article continues below this ad
The veteran boxer, Bernard Hopkins, was asked about his predictions for the upcoming fight between Alvarez and Bivol.
ADVERTISEMENT
Article continues below this ad
Hopkins gave a bold reply to his prediction, being confident in Alvarez. He said, "He smash him. Over! That one will probably be over before the press conference."
The interviewer wanted to know more details about Hopkins' view. He asked," Would he knocks him out?"
While Hopkins remained firm in his views. He said, "Smash him. Smash Him!"
The description of the 'smashing' of an opponent by Canelo Alvarez draws a comparison with Khamzat Chimaev, who has done the same in his 10-career fights in the other combat world.
Canelo Alvarez & Khamzat Chimaev 'smashing' their opponents
The 27-year-old, Khamzat Chimaev, is dominating the welterweight division of the UFC. He is recognized for his ability to smash his contenders in the ring.
While he has entered the UFC cage 10 times in his career; he holds an unbeaten record of 10-0-0. Likewise, Canelo Alvarez too holds a similar image for knocking out all of his opponents who faced him last year. 
ADVERTISEMENT
Article continues below this ad
Hence, this is the reason for Hopkins' bold claim on Alvarez's prediction for his next match.
Chimaev will be facing his next opponent on April 9, whereas we are just a few days away to witness Alvarez taking on Bivol on May 5. 
It will be interesting to see how they perform in their respective fights and how they keep up the expectations of their fans.
ADVERTISEMENT
Article continues below this ad
Watch This Story: Boxing News 08th April 2022
Do you think Canelo Alvarez will knock out Dmitry Bivol to extend his domination in the upcoming fight? Let us know in the comments below.