"A Canelo [Alvarez] Style Will Never Beat a [Dmitry] Bivol Style": Oscar De La Hoya Predicts Potential Rematch at 168
Published 03/18/2023, 4:15 PM EDT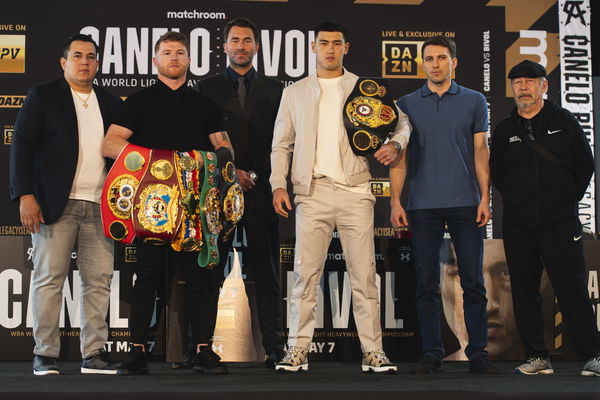 As the boxing world eagerly awaits a potential rematch between Canelo Alvarez and Dmitry Bivol, there is much speculation about who will come out on top. In this world, the right fighting style can be the deciding factor inside the ring. One person who has recently weighed in on the debate is the legendary Oscar De La Hoya. He provided his insights on the potential outcome of a rematch between two of the sport's most prominent figures.
De La Hoya presented a fascinating observation regarding the duo's distinct fighting styles, inciting speculation about the possible outcome of a future bout. However, what distinguishes these fighters, and what makes their methods so exceptional?
Canelo Alvarez and Dmitry Bivol: a clash of fighting styles
ADVERTISEMENT
Article continues below this ad
Boxing is a sport where each fighter brings their distinct style into the ring. Canelo Alvarez and Dmitry Bivol are not exempt from this, as their individual styles have propelled them to the upper echelons of the boxing universe.
Saul Alvarez, or Canelo Alvarez as he is also known, is a boxer hailing from Mexico who has been actively engaged in the boxing scene since his teenage years. His assertive manner and powerful punches, with an emphasis on strikes to the body, have garnered him a reputation. Alvarez has also exhibited flexibility in the ring, tailoring his tactics to suit various adversaries and circumstances. His triumphs bear witness to his skill, with 58 victories under his belt, 39 of which resulted in knockouts.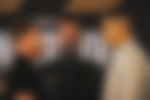 Dmitry Bivole, on the contrary, who's from Russia has established his name because of his speed and technical abilities. He is also known for his impressive footwork and ability to circle around the ring quickly. His powerful jab and counterpunches allow him to keep opponents at a distance. Bivol's record is impressive, boasting 21 victories, 11 of which were secured by knockout.
De La Hoya's prediction: bold or baseless?
In a potential rematch between Canelo Alvarez and Dmitry Bivol, Oscar De La Hoya, a former champion boxer, predicts that Bivol's technical and speedy style will triumph over Canelo's aggressive and powerful approach. De La Hoya, who has been in the sport for decades and is considered a boxing legend, made this prediction in a recent interview, stating that it's "written on the stone."
When asked if he thinks that Alvarez has a better shot against Bivol at 168, The golden promoter responded,"I don't know.. I look styles makes fights and I have always said that a Canelo style will never beat a Bivol style. It's just.. It's written on the stone." La Hoya further added that he will not be the one betting his house on 'Cinnammon.'
It remains to be seen if a rematch between these two fighters will actually happen, but De La Hoya's prediction has certainly sparked interest and discussion in the boxing community.
ADVERTISEMENT
Article continues below this ad
Of course, anything can happen in the unpredictable sport of boxing, and a rematch between Alvarez and Bivol would be highly anticipated for both fighters. If the fight were to take place, it would likely be at the super middleweight limit of 168 pounds.
A win for Alvarez would undoubtedly cement his position as one of the best pound-for-pound fighters in the world, given his already impressive record and reputation.
ADVERTISEMENT
Article continues below this ad
Watch this story: Gilberto Ramirez comeback fight since Dmitry Bivol loss
On the contrary, if Bivol potentially wins, he would establish himself as a man to be reckoned with in the super middleweight division.