"A Real Gentleman's Duel": Irish Boxer's"Fairest Street Fight" Wins over Boxing World
Published 01/21/2023, 7:15 AM EST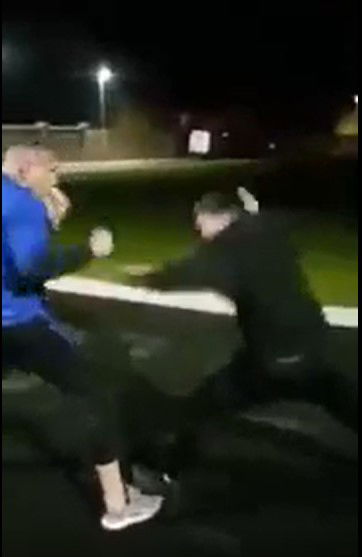 Street fighting is often considered to be a no-holds-barred contest where anything goes. This means that these types of fights are really brutal in nature with no rule set, making them a thing to be avoided at all costs. However, there are some instances where the two people fighting have a mutual understanding of how to properly fight.
This was exactly the case with Irish boxer JJ McDonagh, who might have been part of one of the most friendly street fights ever. Moreover, this fight has even become viral on the internet winning over the boxing community.
JJ McDonagh takes part in a friendly street fight
ADVERTISEMENT
Article continues below this ad
A video of the Irish boxer is making rounds on the internet where he fights with another man. The two fighters first prepare themselves to fight with the other man, even removing his watch to ensure this fight is conducted fairly. Moreover, the two only box, breaking themselves up each time the other got too close.
In addition, the two even hug at the end of the fight with mutual respect for one another. This fight was certainly against the conventional norms of a street fight, which also won over the boxing world as they reacted to this video.
Fans react to McDonagh's street fight
One fan touted this as the most respectful street fight he had ever seen. "Most respectful Streetfight of all time," he wrote.
Another fan was also impressed by this display and claimed that both fighters could enjoy refreshments after this. "Nice little scrap in the Cobbles. Nobody maimed Everyone can enjoy a pint after," he wrote.
Moreover, a fan even claimed that this is how all street fights should be conducted with a respect for each other. "How every street fight should be you duke it out shake hands and go on your way." He wrote
ADVERTISEMENT
Article continues below this ad
Another fan also had some high praise for the fight. "A real gentleman's duel," he wrote.
Lastly, one fan stated that this was the fairest street fight he had ever seen and also praised the two fighters. "This is one of the fairest Street fights I've seen on Reddit. This sh*t was adorable. These dudes were awesome," he wrote.
The fans were impressed by the display of sportsmanship by the two who seemingly went against all norms of a street fight. Moreover, they proved that street fighting can be done in a civil manner and not always end up in a barbaric and no-rule fight.
ADVERTISEMENT
Article continues below this ad
What did you think about this street fight? Let us know in the comments.
Watch This Story: Boxing News Round-Up (Jan 18, 2023). Dana White's Son Practices Boxing, Fury Calls Out Usyk, Wilder's Trainer on His Skills and More
Edited By: Ajinkya Aswale