"About to Bust a Blood Vessel": Fans Pick 17-Year-Old Mike Tyson Over 'Aggressive' 16-Year-Old Brock Lesnar in Stunning Bodybuilding Comparison
Published 03/18/2023, 6:30 PM EDT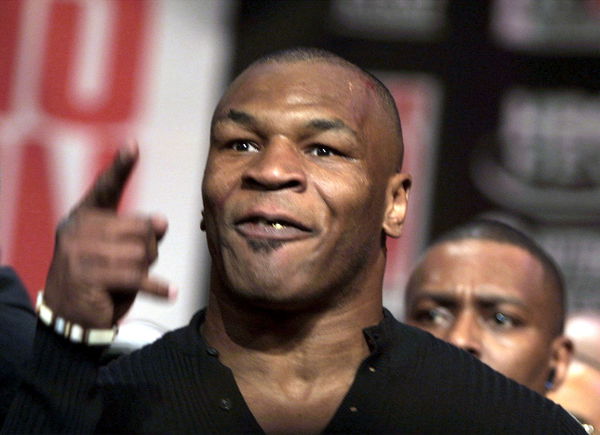 Mike Tyson was a different specimen. The former heavyweight champion of the world was known for his ferocious and speedy performances inside the ring. But, it was not just that.'Iron Mike' had a ridiculous amount of muscle mass unmatched by any other boxer at that time. It is even claimed that when Cus D'Amato met Tyson at 12; he was 100 pounds of pure muscle. It can be said that Tyson was born to become a fighter. A recent online poll of Tyson against the ex-UFC fighter and current WWE wrestler Brock Lesnar has gone viral. He is also known for his body frame and muscle mass.
17-year-old Mike Tyson Vs. 16-year-old Brock Lesnar
A poll was held by Fight Haven on Twitter, asking the fans to choose who they would side with in a fight between Mike Tyson and Brock Lesnar when they were teens. Both of them were total beasts in their teen and had a lot of muscle, which is uncommon among kids at that age.
ADVERTISEMENT
Article continues below this ad
In the photo, both look insane, and it's unbelievable that they are that young in these respective photos. But, what should be observed is that Lesnar is flexing hard to show his muscles in the picture. On the other hand, Tyson is just standing calmly for the photo, and he looks ginormous.
This photo has caused a stir among fans, with a debate raging over who will win. It is not easy to decide who will prevail among the two and in what combat sports. Recently, a photo of 13-year-old Mike Tyson also shocked the whole internet. 
Fans choose Tyson to win over Lesnar
Jacob believes Tyson will win in a boxing match and Lesnar will win any other combat sport.
Boxing – Tyson
Anything goes – Lesnar

— Jacob (@XecratioN) March 17, 2023
44 even posted the highlights from Tyson's career to back his claim of him prevailing in the fight against Lesnar.
The Crypto Alchemist thinks that Lesnar is flexing too hard to bust a blood vessel.
Tyson of course dude is flexing just standing there normally Brock about to bust a blood vessel 😩🙄

— "The Crypto Alchemist" (@TheCryptoAlche9) March 17, 2023
thetrader believes that no one can carry the anger Tyson did while he was boxing professionally.
Tyson bro – no one carried that type of anger and had the ability to channel and deliver.

— thetrader.cro (@cro_thetrader) March 18, 2023
ADVERTISEMENT
Article continues below this ad
Bando is sure that Tyson cannot be defeated by Lesnar.
In a straight up fight, Tyson! There's no question there.
Throw in some grappling and Lesnar might have a chance.

— Bando (@Bando099) March 17, 2023
ADVERTISEMENT
Article continues below this ad
Watch This Story: Five Insane Facts About Mike Tyson
Who do you think would've won if these two ever fought?  Tyson or Lesnar? Let us know in the comments.