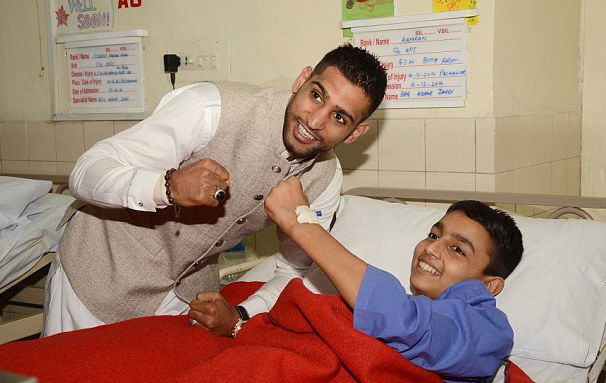 As hundreds and thousands suffer all over the world because of the Coronavirus epidemic, several people of prominence have stepped up to help those in need. Former world champion Amir Khan is one of the personalities to have joined the fight against the novel virus.
The British Boxer recently came out to say that he will be offering his £5m wedding venue in Bolton to the NHS(National Health Services). The venue will house and help those suffering from the fatal disease.
The fighter says he is "aware of how difficult it is for the public to get a hospital bed at this time". Therefore he is willing to let the four-story, 60,000 square foot building function as a center of relief.
At first, the building was to be a wedding venue, banqueting suite and function hall. However, Khan feels the need of the hour trumps the need for a celebration venue.
"I am aware of how difficult it is for the public to get a hospital bed in this tragic time. I am prepared to give my 60,000 square foot 4 story building which is due to be a wedding hall and retail outlet to the @NHSuk to help people affected by the coronavirus."- Amir Khan
Initially, the building was to incorporate a bar, VIP restaurant, and roof terrace along with a retail outlet.
The United Kingdom as of now is home to 8,264 patients of Coronavirus. The country has seen around 435 deaths as a result of the virus. It is the 10th most affected country in the entire world. However, it has seen the 7th most deaths amongst all the countries.
The 33-year-old boxer boasts of a record of 34-5-0. The Olympic silver medalist for Great Britain has won 21 of those fights by way of knockout. The last time the Bolton based boxer stepped into the ring was against Billy Dib in July 2019. The lethal striker is now looking forward to his next fight. However, the Coronavirus pandemic has rendered such hopes pointless for quite some time now.