Andrew Tate Spotted With Anthony Joshua Ahead of His Rumored Fight With Jake Paul
Published 11/19/2022, 5:30 AM EST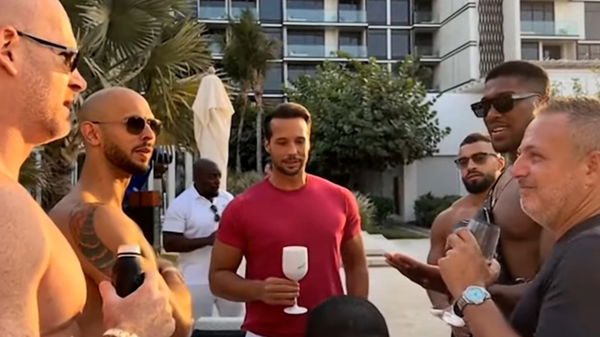 Andrew Tate was in the media spotlight in the near past as he was banned from social media platforms due to his controversial remarks. However, he recently made headlines as he was seen standing face to face with American Youtuber turned boxer Jake Paul. The face-off clearly hinted that the two are in talks for a potential fight. There is a new video of Andrew Tate, which is making a stir among boxing fans. 
ADVERTISEMENT
Article continues below this ad
Andrew Tate was spotted for the second time with Jake Paul during the Floyd Mayweather vs. Deji fight. Following that, recent footage shows Andrew and his brother Tristan Tate with heavyweight boxing phenom Anthony Joshua. They were seen having a good time in Dubai. 
ADVERTISEMENT
Article continues below this ad
Anthony Joshua suffered a frustrating loss against Oleksandr Usyk in their rematch fight in August. It came as a huge disappointment to AJ, and he was seen tossing the belts inside the ring in anger. Currently, fans are expecting to see him in action again, and he will probably go against Deontay Wilder. However, only time will tell who he fights next. 
Logan Paul is skeptical about Andrew Tate fighting his brother
Even before the Andrew Tate-Jake Paul face-off, there were rumors about Tate fighting Logan Paul. But now it seems that with each passing day, the fight between Tate and Jake Paul is getting closer. The latter even shared the face-off on Twitter and wrote in the caption, "Negotiations."
ADVERTISEMENT
Article continues below this ad
However, Logan is skeptical about Tate's willingness to fight his brother. 'The Maverick' stated in his podcast show ImPaulsive, "Andrew Tate will not fight Jake, Andrew Tate will not fight myself. It would be so silly. If he does, it would be a money play. He's going to get his a** kicked and the 'Top G' facade will finally be revealed as bull**. It is the fight that everyone wants to see. I'm curious to see if he is going to step up."
WATCH THIS STORY: Boxing News Roundup: (November 17, 2022): Logan Paul Dismisses Tate Fighting His Brother, McGregor Sharing a New Snap, Talks About Jake Paul vs. Tommy Fury, and More
ADVERTISEMENT
Article continues below this ad
Meanwhile, what do you think about Tate meeting Anthony Joshua? Are they training together for the Jake Paul fight? We can't really say. Only time will tell how this situation turns out. 
Edited By: Ajinkya Aswale