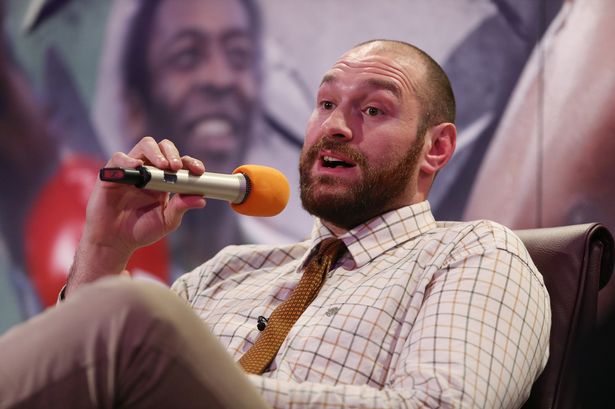 'The Gypsy King' Tyson Fury has fired back at Dillian Whyte and the WBC after he revealed he's not interested in fighting him and is ready to give up his title for bigger fights.
Whyte is currently Fury's mandatory challenger for the WBC heavyweight title. However, with the various agreements in place Fury will face Deontay Wilder first and has agreed to a contract in principle to face Anthony Joshua next year. Given his booked schedule, it is highly unlikely for Whyte to get his shot at the title before 2022.
READ: Tyson Fury Vs Deontay Wilder Trilogy Undecided On Location
"Dillian Whyte is looking for a pay-day against me"- Tyson Fury
"I'm about fighting the biggest fights out there and Wilder-Joshua-Joshua are the biggest fights out there. Dillian Whyte is looking for a pay-day against me and Pulev is looking for a pay-day… all these challenges are not sellable, especially in America, so I'm looking to do colossal fights, the last few fights I have left, I want them to be the biggest possible fights, It won't be a belt or an organization dictating to anybody because no-one has ever dictated to the champion. These low profile fighters don't mean anything to me, I'm after the biggest fights available. I'm a proud WBC champion but at the end of the day, I'm the lineal heavyweight champion of the world which trumps everything. Belts are just pieces of leather with pieces of metal on them and they don't mean anything to me," said Fury to Queensberry's Lockdown Lowdown show.
Whyte has nuked Fury with hopes of getting a fight sooner rather than later. However, now that the Gypsy King has made his intentions clear, it seems like the two warriors will not be facing each other anytime soon.
Moreover, given the mammoth contracts that Fury has signed, a fight against Whyte might not be a financially sound option for Fury and his promoters.
"The answer to Dillian Whyte is, wait in the queue and your time will come when it comes; I'm not really interested in you. If he thinks he's going to call me a few names on social media and I'm going to turn down a $100 million payday then he's got a long wait," said Fury
With Fury entering the last few fights of his contract, fans are itching to see what colossal match-ups await the Gypsy King.
What are your thoughts on Fury's comments? Let us know in the comments below!
ALSO READ : Tyson Fury Vs Deontay Wilder Trilogy Undecided On Location