Muhammad Ali vs Mike Tyson- Who Would Win in Their Prime?
Published 04/04/2020, 9:20 AM EDT
By
British boxer Anthony Joshua sparked an interesting debate , giving his prediction for Muhammad Ali vs Mike Tyson in their prime.  Joshua ended up siding with 'Iron' Mike, claiming he had similarities to Joe Frazier. However, a simple prediction will not do justice to the great skill-sets both fighters possess.
Muhammad Ali and Tyson are a class of fighters that can't be replicated. It's impossible to say who would win. But based on certain skill-sets and overall technique a prediction isn't too far fetched.
ADVERTISEMENT
Article continues below this ad
Muhammad Ali – Analysis
The common argument from the old-school Ali fans is that he could quite literally float like a butterfly and sting like a bee. Ali was a heavyweight who's hands moved like a welterweight and his movement across the ring was that of a lightweight fighter.
He managed to break almost every single orthodox boxing rule. His hands stayed on the side, looking for an opening to crack open his opponent's jaw.
He predominantly moved back to dodge punches and his opponent's head was his 'bulls-eye'. Ali had a habit of throwing looping punches from a variety of angles, causing plenty of confusion for most of his opponents.
Ali would move gracefully across the ring before striking with his trademark 4-punch combinations.
He could certainly take a beating as well. He would wear down his opponents to a point where they couldn't defend themselves before striking with a deadly blow to seal the victory.
Another advantage Ali possessed was his reach. He kept opponents safe at bay, strategically placing shots to tear down his opponents.
However, despite his strengths, Ali was not invincible. His loss against Joe Frazier proved just that. Ali was back after a long lay-off and Frazier took advantage and exposed his frailties. Ali's rope-a-dope method seemed to fail against a relentless 'smokin' Joe Frazier. Frazier managed to close the distance and almost ended the fight In round 11 when it was apparent that Ali had sustained serious injuries but it took till round 15 to seal the victory.
Despite his losses, Ali was a pioneer in the sport and his record of (56-5) proves just that. He managed to make a stellar comeback and retired at the very top.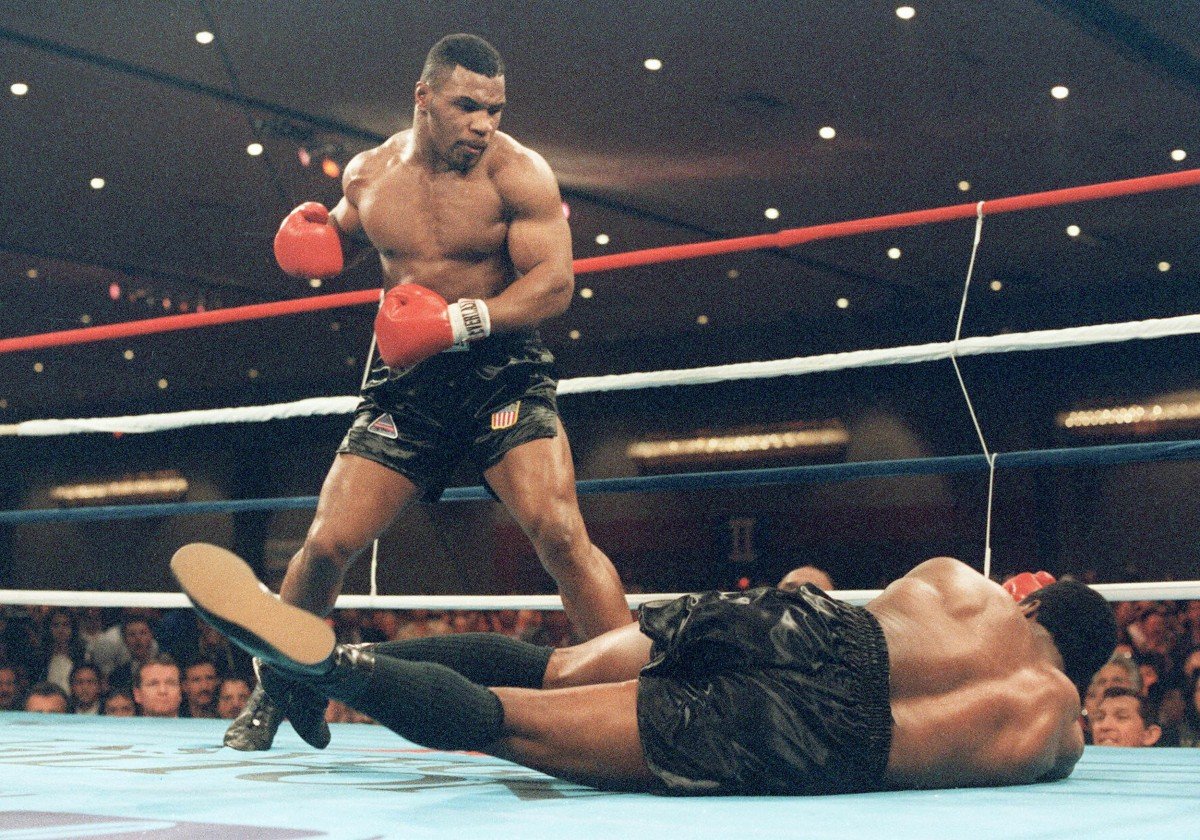 READ :"It All Came Down to Respect"- Mike Tyson Reveals Details From Prison Days
Mike Tyson-Analysis
Fighting Mike Tyson was like fighting in hell itself for most boxers. His infamous death stare and the sadistic pleasure he derived from knocking-out his opponents was a sight to behold. Tyson marched straight at his opponents with evil-intent. He employed his famous peek-a-boo technique, removing his guard only to deliver a killer blow.
When he dropped his guard, he would unleash an arsenal of combos with the liver and the chin his favorite spots to destroy. Tyson was a vicious combination puncher. He would unleash quartets targeting the body and head, eventually putting his opponents to 'sleep'. His relentless pressure and ability to close the distance was unmatched. Also, his brutal knock-out power was something no one had ever witnessed in the division.
ADVERTISEMENT
Article continues below this ad
Tyson was a very effective puncher. He had the innate ability to stop a fight when he pleased with 44 knock-outs a testament to his ability in the ring.
However, just like Ali, Tyson was beatable. Perhaps Tyson's biggest downfall was his arrogance at his prime. Buster Douglas removed the mystique of Tyson's greatness by beating him, causing one of the greatest upsets the sport had ever witnessed. Douglas effectively used his 83" reach and delivered several blows, successfully knocking-out 'Iron' Mike. Similarly, Evander Holyfield used his reach to successfully keep Tyson at bay during their encounters.
Prediction- Ali wins
Mike Tyson's greatest chance would be to stop the fight in the early rounds. However, Ali's chin and endurance would ensure that never happened. Ali's reach would certainly be an advantage against the stocky Mike Tyson. Taking all things into consideration, my prediction is Ali will seal the victory with a 10th round knock-out.
ADVERTISEMENT
Article continues below this ad
READ : "They're Both Beautiful Fighters"- Mike Tyson Reveals His Favourite Boxer Alongside Vasiliy Lomachenko