Anthony Joshua Reveals How He Overcame His Demons
Published 03/06/2020, 12:37 PM EST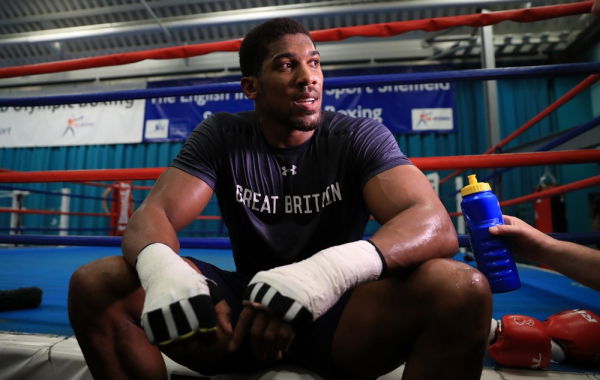 ---
---
Anthony Joshua has revealed how he overcame his '' demons'' after his loss to Andy Ruiz jr. Ruiz who was the underdog stunned the world by knocking out Joshua thus claiming all his belts. Several things seemed to go wrong for AJ that night producing one of his worst performances.
ADVERTISEMENT
Article continues below this ad
Joshua managed a great comeback making several changes to his training regiment.
ADVERTISEMENT
Article continues below this ad
Speaking on the Running The Show podcast, Joshua said:
"It's one thing being physically prepared, but it's not just about the physicality. You can put 10 of the world's strongest men in here (the ring), but mentally they might not be designed or trained. No matter how many things people throw at you or how many obstacles you have to overcome, it's just another task to get over. You're not thinking about the emotional side. With the Ruiz fight, I had to block out everything emotional and see it as a task where losing wasn't an option."
changes Anthony Joshua made to his training regime:
This task-minded mentality helped AJ, as he out-boxed Ruiz in every round to regain his titles back. With his next big fight set for 20th June, his approach will surely be the same this time.
Anthony Joshua's conditioning was questioned during the first fight as he was not able to deal with the pressure. Andy put him on the back foot and countered every single punch strategically placing them on the body tiring Joshua. However, during the rematch AJ's conditioning was on point.
Speaking about his training regiment, Joshua said:
ADVERTISEMENT
Article continues below this ad
"I used to hate running, and I'd see normal people, who work in the city or at your local shop, going on a run, and they look like they're loving it and I thought about me as an athlete or me training for a marathon who has got a task ahead, why don't I have that same enjoyment of what I'm doing?.  And I started looking at running in a different way. so I started waking up thinking I'm going to go for a nice run, and that I'm going to feel good when I get back and stretch.''
This approach worked as his conditioning along with his weight-cut ensured precision shots with power and speed.
With Joshua eyeing a unification bout we must wait and watch to see what's next for Britain's boxing prodigy
ADVERTISEMENT
Article continues below this ad
What Does Anthony Joshua's Day Look Like? Here's a Sneak Peek