"Are They Crazy?" – Bob Arum Questions Boxing Body for Letting Evander Holyfield Fight Vitor Belfort
Published 09/11/2021, 7:37 PM EDT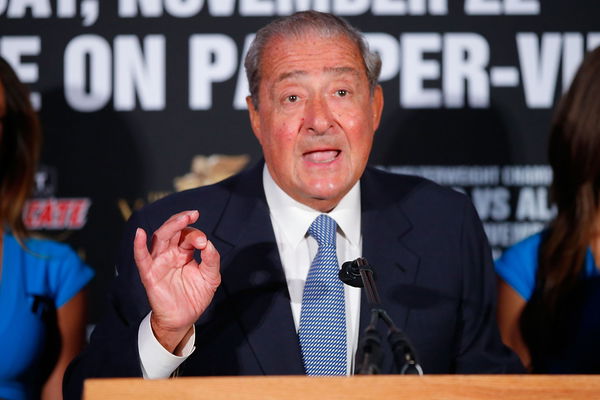 ---
---
The heavyweight king from the old boxing era, Evander Holyfield, will finally fulfill his wish of fighting inside the squared circle on Saturday night. He will battle out the UFC legend, Vitor Belfort, in an official 8-round boxing bout. Earlier, Oscar De La Hoya was placed to fight Belfort. However, he tested positive for Covid-19 and had to withdraw from this bout.
ADVERTISEMENT
Article continues below this ad
As a result, the 58-year-old got a chance to sneak in and face Belfort in front of the vast boxing masses.
On one side, umpteen fans and fighters are excited to see 'The Real Deal' back in the game again. But on the other side, personalities like Bob Arum are absolutely stunned at Florida Athletic Commission approving this bout and letting Holyfield fight at this age.
ADVERTISEMENT
Article continues below this ad
Speaking exclusively to Boxing Scene, Arum said, "I'm just shaking my head."
"I mean, how does that fight get approved with a guy who's almost 60 years old, without getting a Cleveland Clinic, Mayo Clinic-type of examination? How do you approve a guy that age, you know, allowing him to take punches to the head? That is absolutely crazy – crazy!"
"I mean, the punches he took, he was a really great warrior. And then he stayed after his skills had eroded, took more punishment and now he's almost 60 years old and they're still letting him fight. Are they crazy?" he added.
Just like Arum, many renowned names in the sport shared the same notion on this fight. Though Holyfield has been one of the greatest to appear in the ring, he certainly will be tested against a hard hitter in Belfort.
Evander Holyfield vs Vitor Belfort – Will this fight stay true to the hype?
ADVERTISEMENT
Article continues below this ad
Holyfield vs Belfort event has already been the talk of the town over the past few days.
Watch this story – 5 Intriguing Facts You Need To Know About Evander Holyfield
Both the fighters unquestionably put in a tremendous amount of hard work for this collision. Hence, fans only expect the pair to bring their best in this clash.
ADVERTISEMENT
Article continues below this ad
That said, this fight will prove to be an entertainer and it will be interesting to see who among the two comes on top to lure the fans with a win.
What do you make of Arum's comments?