Behind the Scenes: Ryan Garcia's Immediate Reaction to Losing $20,000 Bet With Errol Spence Jr.
Published 06/06/2022, 10:45 AM EDT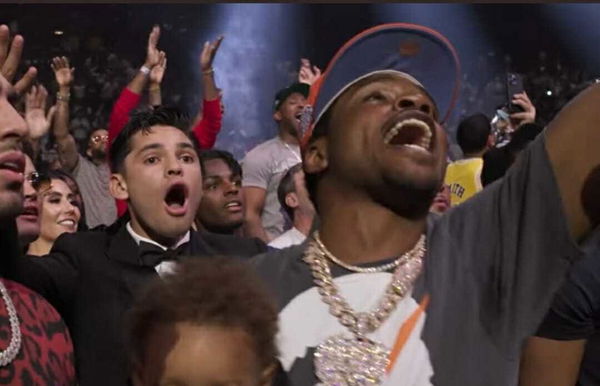 The highly-anticipated showdown between undefeated pugilists, Gervonta Davis, and his heated rival, Rolando Romero, attracted many star boxers and celebrities to the Barclays Center in Brooklyn, New York. Among them are the star lightweight contender, Ryan Garcia, and unified welterweight king, Errol Spence Jr, who build up their own interesting story while enjoying the slugfest in their seats at the ringside.
The fight between the pair began with a bell, and the tensions started increasing. Each shot was followed by a heavy cheer from the crowd, as it was not a fight between two mere pugilists. The night was witnessing an exchange between two big rivals who were throwing insults at each other for months.
ADVERTISEMENT
Article continues below this ad
Meanwhile, Ryan Garcia and Errol Spence Jr. were sitting close and had a discussion about the result. The difference of opinion led to a $20,000 bet. Where Garcia predicted Rolly's victory and Spence went with the favorite, Gervonta Davis.
Gradually, round after round, the action-packed clash reached its peak moment when the southpaw gun caught Rolly with a hard left hook. It sent the latter on the canvas. Though the hard hitter Romero tried to get back on his legs, he failed to satisfy the referee, and eventually, the fight came to an end.
As soon as the referee signaled Romero to stop, the spectators went crazy. The Barclays Center echoed with applause. Supporters of Davis went crazy as they began shouting.
Reactions of Ryan Garcia followed by many more reactions
The highlight of the aftermath was none other than Gervonta Davis. He climbed over the canvas and cheered with fans. The three-weight class champ also teased Romero.
ADVERTISEMENT
Article continues below this ad
Apart from Romero, there was someone else who was very disappointed with the verdict, Ryan Garcia. His face was expressing the loss he suffered. He lost a $20,000 bet to Spence Jr. On the other hand, Spence was cheering loud with the crowd over Davis' win. He shouted, "Put his *** in the trunk." Meanwhile, Garcia to Spence, "Imma give you."
The former welterweight champion, Shawn Porter, said, "Yeah, that's why we came."
Davis' teammate who was taking off his gloves mentioned, "Let them know that rolly didn't pay his electricity bill, so you had to turn his f**kin' lights off".
ADVERTISEMENT
Article continues below this ad
Overall, the event turned out to be a great success. What do you think of Ryan Garcia's reaction? Let us know in the comments below.
WATCH THIS STORY–These 5 Boxers Lost Over $4 Million in Fines
Edited By: Vibhanshu Kumar