Bob Arum Blasts ESPN Reporter, Says Herbal Tea Caused Oscar Valdez Positive Test
Published 09/02/2021, 1:01 PM EDT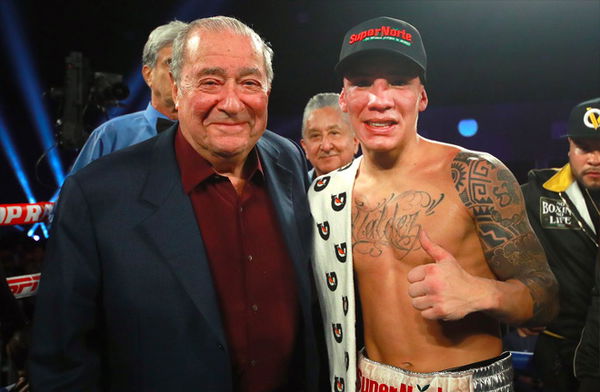 ---
---
Ahead of his title defense against Robson Conceicao on September 10, ESPN's Mike Coppinger reported that Oscar Valdez had tested positive for a diuretic, banned stimulant. This raised concerns regarding the continuation of the scheduled bout. Top-Rank's Bob Arum recently shared that the fight will go on as planned.
ADVERTISEMENT
Article continues below this ad
However, the ESPN report did not sit well with the promoter. He criticized Coppinger for his reporting and even defended Valdez by saying "herbal tea" ingestion led up to him testing positive for Phentermine traces. Bob Arum also claimed that Phentermine is not a PED and is not considered an illegal substance.
ADVERTISEMENT
Article continues below this ad
"He got it drinking herbal tea,"
"It's absolutely nothing, it's not a PED. It's not illegal, it's nothing! There was a very, very light amount (in the sample). He took herbal tea because he wanted to stop drinking coffee. And for this, the kid gets dragged through the mud. For no reason!" said Bob Arum.
"It's irresponsible of reporters to do a report like that, it gives journalism a bad name. Any company that gives such a so-called journalist such a position, they should be ashamed of themselves," Arum added, referring to ESPN's Mike Coppinger.
Oscar Valdez adds to the boxing community's outcry for stricter rules
Boxing and combat sports, at large, take a lot out of fighters. With financial rewards and compensation one could only dream of, it is easy to understand why some pro-boxers risk their health by using and abusing PEDs that give them an unfair advantage in terms of performance optimization.
Clearly, Oscar Valdez testing positive for a banned stimulant is part of a much larger ongoing issue in the sport. Amongst many others, boxing has seen athletes like Canelo Alvarez, David Benavidez, Tyson Fury, Luis Nery, Dillian Whyte, Kid Galaha, Eric Molina test positive in the past few years.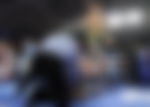 Recently, broadcaster Adam Catterall shared his thoughts on the matter; he believes there should not even be debate over fighters competing despite testing positive for banned substances.
Catterall called for authorities to cancel fights in case of PED abuse, regardless of the athletes involved. He also indirectly hit back at Bob Arum's 'herbal tea' explanation by saying it should not matter how the substance got into the system.
ADVERTISEMENT
Article continues below this ad
It's quite simple as Adam lays out here. Maybe Valdez didn't take something on purpose. It doesn't matter. The athlete is responsible for what goes in his/her system. Zero tolerance. https://t.co/l06kBlcv4d

— Mike Coppinger (@MikeCoppinger) September 2, 2021
ESPN's Mike Coppinger added it is possible that Oscar Valdez might not have voluntarily or purposely consumed the substance; however, he added that none of that matters as the athlete is responsible for the outcome and for what he or she chooses to consume. Coppinger additionally called for a "zero-tolerance" policy on PED usage.
ADVERTISEMENT
Article continues below this ad
Do you think boxing needs to revise its PED rules and regulations?