Boxer Who Got Sucker Punched by Floyd Mayweather Appeared in Sylvester Stallone Movie Alongside Arnold Schwarzenegger, Ronda Rousey, Jason Statham, and Others
Published 08/30/2022, 3:00 PM EDT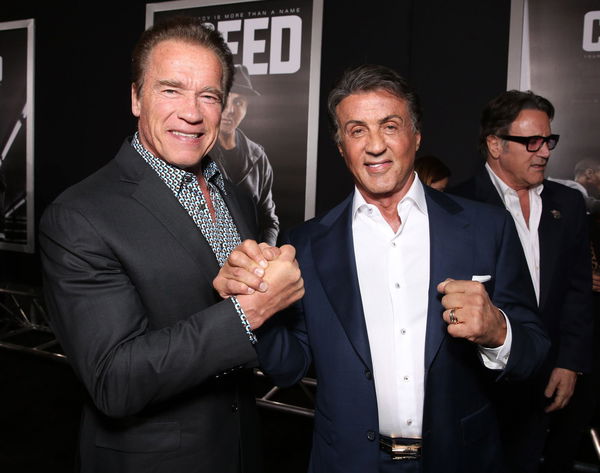 Sylvester Stallone, a legendary figure in Hollywood, often acknowledges how boxing helped launch his career. The 1975 battle between Muhammad Ali and Chuck Wepner served as his inspiration for the movie, "Rocky." Stallone continued to make action films and is the creator of the popular 'The Expendables' film franchise. Evidently, the actor chose to use a boxer who had previously been the victim of a Floyd Mayweather sucker punch.
Ronda Rousey will show championship form in Expendables 3! So will multi hampion Victor Ortiz!

— Sylvester Stallone (@TheSlyStallone) July 24, 2013
ADVERTISEMENT
Article continues below this ad
Stallone revealed on his Twitter that the former UFC champ, Ronda Rousey, will appear in the third part of The Expendables. Additionally, he even mentioned, Victor Ortiz, who got sucker punched by Floyd Mayweather also featured in the movie. 
Furthermore, the movie was star studded other actors like, Arnold Schwarzenegger, Bruce Willis, Jason Statham, and Jackie Chan. Interestingly, the UFC legend, Randy Couture, also featured in the movie. 
When Floyd Mayweather sucker punched Victor Ortiz
Former WBC welterweight champion, Victor Ortiz, faced boxing legend, Floyd Mayweather, on September 17, 2011. The spectators at the MGM Grand in Las Vegas witnessed something unusual that day, which is still regarded as one of the most controversial fights in boxing. 
ADVERTISEMENT
Article continues below this ad
'Money' was dominating the bout from the starting bell, and fans had already predicted that he would win the match. However, no one expected what happened further, which made Mayweather emerge as the winner. 
Apparently, in the fourth round of the bout, at a point, the two were very close to each other and Ortiz abruptly hit Mayweather's face with a headbutt. This resulted in a cut inside Mayweather's mouth. Following this, referee Joe Cortez promptly separated the two boxers and docked Ortiz one point for the improper action. Ortiz approached Mayweather to give him an apology hug after realizing it was wrong to headbutt him.
WATCH THIS STORY: 5 Must-Know Facts About Floyd Mayweather's Nascar Venture the Money Team Racing
ADVERTISEMENT
Article continues below this ad
When 'Money' noticed this chance, he rapidly struck Ortiz with a left hook and a right-hand blow. As a result, Ortiz was slammed to the ground and was unable to stand up for 10 seconds. It wasn't against the law for Mayweather to hit Ortiz while the fight was still in progress.
Even if the five-division champion won the battle, it still makes spectators wonder whether Mayweather had the right to act in this way. What do you make of the end result of the bout? Let us know in the comments below. 
Edited By: Vibhanshu Kumar