"Bro Got Sent to the Shadow Realm": Boxing World Erupts as School Fight Ends in Dangerous Knockout
Published 03/15/2023, 1:10 PM EDT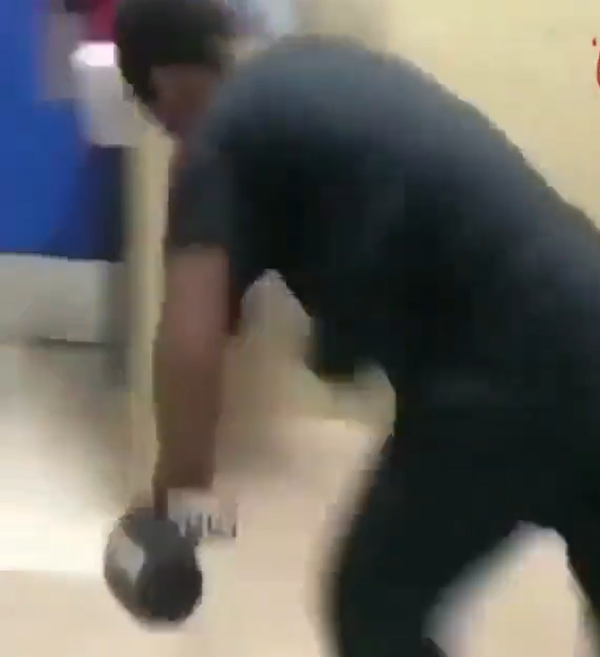 Boxing is a thrilling sport. Fans love the exhilaration when two fighters trade punches inside the ring. Both the fighters are out for war, and showing any mercy is the least of their concern. The thing that makes a boxing fight interesting is the knockouts. In a boxing match, fans are always expecting a boxer to knock his opponent unconscious with a well-timed punch. However, taking cues from a boxing fight and trying it with your friends is not a good idea. It needs to be considered that what makes professionals different from regulars is their training and time dedicated to the sport of boxing. Without proper training, you can end up hurting an individual badly.
There are videos going viral on the internet where children can be seen sparring inside classrooms, playgrounds, or locker rooms. Although it may seem fun for boxing fans online, such fights should be avoided at all costs.
One such video is going viral on the internet wherein two kids are just sparring for fun, but one takes things seriously and knocks the other kid. The video was cut in a funny way and the fans can't hold back their emotions after watching the video.
ADVERTISEMENT
Article continues below this ad
A brutal yet hilarious knockout
Fight Haven posted the video on Twitter. In the video, two kids are sparring viciously. But things turn serious when one kid lands a rugged cross on his opponent's chin. The other kid tries to control his pain, and what prevailed next after the punch is hilarious.
The boy on the receiving end of the strong punch lost his balance, and his legs turned wobbly for a few mins. But the more he tried to reconcile his balance, the worse it got. And finally, he lost it all and crashed right into a metal piece right on the wall.
But things ended well as the kid regained his balance and returned to his senses. His friends supported him.  Recently, another knockout video of a sparring session went viral online.
Fans react to the hilarious knockout
1800-GOD-DAMN joked and said that the kid went to the shadow realm.
Bro got sent to the shadow realm

— 1-800-GOD-DAMN (@JStewie9797) March 14, 2023
Radrook replied with a piece of rather odd advice for the kids who were boxing without a mouthguard.
You can lose all your front teeth boxing without a mouth guard.

— Radrook (@radrook123) March 15, 2023
aeroth appreciated the kids for fighting with boxing gloves on.
doesn't matter they fought like men with gloves 1 on 1. W in my book

— aeroth (@aeroth1) March 14, 2023
Arie De Bruin had words of praise for the editor of the video, as he really enjoyed the hilarious editing.
Yo give the editor of this video an Oscar. This shit is hilarious.

— Arie de Bruin (@Arie_Dedain) March 14, 2023
ADVERTISEMENT
Article continues below this ad
Bobby Callen reigned in Blueface's girlfriend Chrisean Rock to make a joke about this hilarious fight between the two.
He looks like Chrisean rock drunk eating pizza on YouTube lol

— Bobby Callen (@BobbyCallen) March 14, 2023
ADVERTISEMENT
Article continues below this ad
Watch This Story: Worst Eye Injuries in the history of boxing
What do you think about this knockout video? Was the knockout too far? or was it fun? Let us know in the comments.