Burglars Break Into Boxing Champion's House – Steals Jewelry, Luxury Bags
Published 06/09/2022, 5:55 AM EDT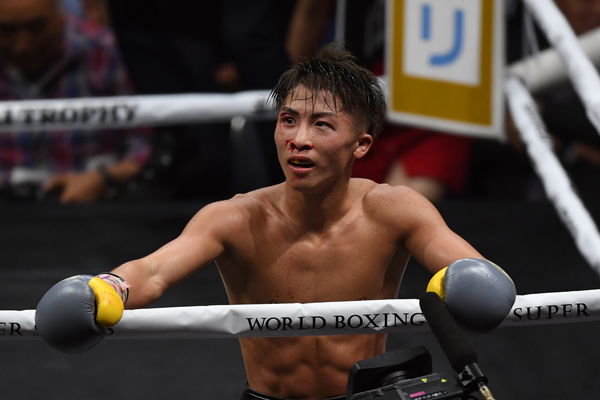 Japanese boxer Naoya Inoue experienced a tragic incident while he was fighting Nonito Donaire at the Super Arena in Saitama, Japan. Inoue emerged as the winner in this sequel by knocking out his opponent in the second round. However, even though the boxer won the WBC bantamweight title inside the ring, he went through a loss outside. 
ADVERTISEMENT
Article continues below this ad
Naoya Inoue's house was reportedly burgled while he was fighting Nonito Donaire yesterday, according to reports in Japan. It's claimed more than a dozen items such as pieces of jewellery and luxury bags were stolen.

— Michael Benson (@MichaelBensonn) June 8, 2022
ADVERTISEMENT
Article continues below this ad
While the fighter was fighting Donaire, some burglars broke into his home and stole over a dozen items, including jewels and high-end handbags. 'The Monster' was upset due to the burglary, and he took to Twitter to express his sadness.
As per 'TheSun', he said, "What a disgusting story on an otherwise celebratory day… Everyone be careful!!" 
When approached by AFP, the local police officials refused to confirm the case's circumstances.
The rivalry between Naoya Inoue and Nonito Donaire
The two fighters had their first bout on November 7, 2019. From the first round, the fight had piqued the interest of the audience. It was a display full of well-placed blows, great footwork, and incredible willpower.
Despite being a big favorite, Inoue faced a formidable opponent on the other side of the ring. The Filipino legend came in with all of his might, but he ultimately fell short in front of the emerging Japanese sensation. Although Inoue was proclaimed the winner of the fight, it was clear that a rematch was required. ESPN also named it the '2019 fight of the year'.
WATCH THIS STORY: Event Recap: Destruction At Naoya Inoue vs. Michael Dasmarinas
ADVERTISEMENT
Article continues below this ad
Furthermore, Inoue and Donaire met again inside the ring on June 7, 2022. This time, the 29-year-old showed up with electric intensity and was crowned champion yet again.
This is what 'The Filipino Flash,' had to say about his recent loss. Donaire stated, "You know we came up short today, but I do appreciate you guys. Support, prayers. You know, Inoue got me really good, and I was always gonna keep fighting. And I'm glad that the referee stopped the fight because I was always gonna stand up. So that's just part of me. I just don't have any quit in me."  
ADVERTISEMENT
Article continues below this ad
The Filipino fighter may well have fought his last fight as fans urged to him to retire. Donaire has had an illustrious and long career, but his age might have caught up to him and he seems just a shadow of his former self. The time might be right for the Filipino boxing sensation to finally hang up his gloves.
What are your thoughts about the burglary at Inoue's house and his sensational win? Write it down in the comments section below.