Caleb Plant's Coach "Angry and Disappointed" With Canelo Alvarez 
Published 10/01/2021, 2:45 PM EDT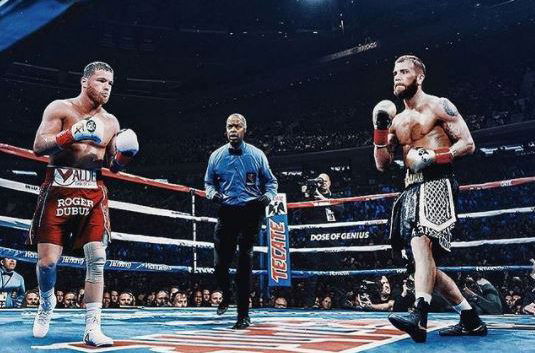 ---
---
Caleb Plant's coach, Larry Wade, was not in attendance at the press conference where Canelo Alvarez initiated a brawl with his fighter. In a recent interview, he shared his thoughts on the p4p king's aggressive approach towards Plant.
ADVERTISEMENT
Article continues below this ad
Wade said that he was "angry" and "disappointed" with Canelo Alvarez, as he never expected him to act in that manner. The coach also questioned his professionalism.
He added that he was happy about Caleb Plant not backing off from the Mexican champ's mind games. Additionally, Coach Wade believes the IBF champion showed that he is not afraid of Canelo Alvarez.
ADVERTISEMENT
Article continues below this ad
"I was extremely angry and disappointed because I didn't expect for it to pan out the way it panned out. I didn't expect Canelo to, you know, come at him aggressively in that manner and him being the quote-unquote professional that they try to say he is, I didn't expect that to happen."
"But what I am happy about is Caleb standing his ground and letting the world know that he's not afraid of Canelo. I think that's something the whole world is starting to find out and they will find out – November 6th. Caleb isn't afraid of anybody," said Coach Wade.
Why do Canelo Alvarez and Caleb Plant not see eye-to-eye?
After a series of mix-ups in negotiations, the Mexican champion is now all set to fight Caleb Plant on November 6 at the MGM Grand, LV Nevada.
These 12 rounds are extremely critical for both fighters. This four-belt unification bout between the two champions will establish the first undisputed champ at 168.
In nearly a month's time, both champions will head into battle to secure the undisputed champion tag. This is the base reason why there is so much tension between both corners; however, this whole rivalry kicked off initially because of disagreements and adjustments during the negotiations.
ADVERTISEMENT
Article continues below this ad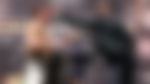 However, this is not just a rivalry anymore. It has escalated to a whole new level at the recent press conference. Caleb Plant called the Mexican champ a "motherf****r" during the face-off. That did not sit well with Canelo, who inferred it as a shot at his own mother.
Also Read: Andre Ward Explains His Motivation to Help Caleb Plant Prepare for Canelo Alvarez
ADVERTISEMENT
Article continues below this ad
Alvarez initiated a brawl during the press conference by pushing his opponent. This led to Caleb Plant launching a left hook at him, and within a split second, Canelo landed a two-punch combination that even caused a slight cut under Plant's eye.
Only time will tell if and how this rivalry will come to an end.