'Call Me a Hater'- Bernard Hopkins Goes off on Mike Tyson vs Roy Jones Jr. Event
Published 01/23/2021, 10:18 AM EST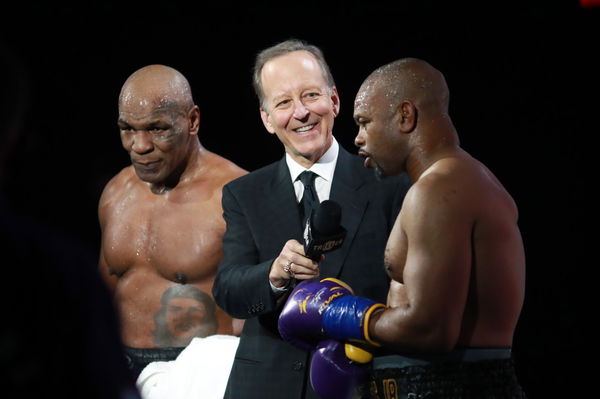 ---
---
Boxing Hall of Famer Bernard Hopkins might not want to return to the ring in an exhibition fight as he couldn't locate anything impressive with Mike Tyson vs Roy Jones Jr.
ADVERTISEMENT
Article continues below this ad
Hopkins doesn't mind being tagged a hater, but he claims to have found Snoop Dogg as the most entertaining element of the event.
Rapper Snoop Dogg had his live performance that night and also commentated for the exhibition fight. While Mike Tyson and Roy Jones Jr. were the prime attractions, Hopkins saw Snoop Dogg as a gateway for entertainment. He connected with FightHub TV to shed light on the exhibition event and hailed the rapper for saving the show.
ADVERTISEMENT
Article continues below this ad
"Snoop Dogg made the show that's what I can tell you about what I thought about that fight. Call me a hater," said Hopkins.
'The Alien' added, "He (Snoop Dogg) was telling the audience what need to be done and why they couldn't do it. So, on that note, you gotta thank Snoop Dogg for saving the show," said Hopkins.
Meanwhile, Bernard Hopkins, one of the greatest ever, doesn't envision himself walking the same road as he claimed to have fought his last fight. Although several legends are returning to the ring in recent times, 'The Alien' has a different overlook on it.
How can Bernard Hopkins return?
Boasting a record of 55-8-2, Hopkins is an all-time great. So, he needs no more accolades to enrich his boxing career. He has hailed Mike Tyson and Roy Jones Jr. for returning to the ring at dotage. Hopkins has also claimed to have enjoyed the event. But he doesn't see it as a part of his future activities.
"It was an excellent show, it was an excellent entertainment rather, and I enjoyed it. But I am glad that I went as far as I can so I won't ever have to do that, ever," said the retired world champion pugilist.
However, Hopkins can only return if he dislikes someone. That said, Hopkins says, he no longer dislikes anyone after retirement.
According to 'The Alien' things have changed since hanging the gloves and he no longer wants to have any bad-blood. So, a return at 56 doesn't seem to be on Hopkin's radar.
ADVERTISEMENT
Article continues below this ad
Speaking on it, he said, "It had to be somebody I don't like. For me to go back on things that I said my word. I have to actually, like since I am retired, I like everybody now. When I was boxing, I was kind of more like I had to have that chip on my shoulder."
Hopkins hung up his gloves after facing 2-consecutive losses against Sergey Kovalev and Joe Smith Jr. In his last fight against Joe Smith Jr, Hopkins fell off the ring, and it was humiliating for the legend.
ADVERTISEMENT
Article continues below this ad
He was way past his prime back then. Thus it's bizarre to expect him to enter the squared circle again.