Can Anthony Joshua Fight Floyd Mayweather?
Published 09/24/2021, 11:20 AM EDT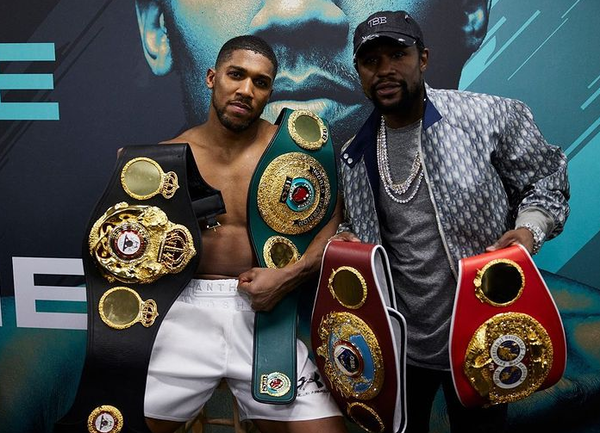 ---
---
Boxing has seen some massive transition in the past few years, where mismatches have become quite common. For instance, Floyd Mayweather vs Logan Paul was one such event that shook several protocols of the sport and brought a YouTuber against a professional world champion pugilist. Since then, it has evoked several people to fantasize about the mismatches.
ADVERTISEMENT
Article continues below this ad
Although many of them may never take place in reality, boxing loyalists continue to debate. That said, a mega-fight between Anthony Joshua and Floyd Mayweather could have been a bizarre yet epic in-ring collision. The world champion-level boxers clearly represent the boxing clan as two of its biggest superstars.
However, they come from two different zones. Mayweather, the American star, has competed in the welterweight, super welterweight, lightweight, featherweight divisions, moving across the lower weight rosters. Meanwhile, Brit star Anthony Joshua has been a heavyweight boxer all his life. So this massive contrast curbs the potential scrap right away.
ADVERTISEMENT
Article continues below this ad
Per the boxing guidelines, two men need to come in a mutual weight class to lock horns. It doesn't seem to happen if 'AJ' and 'TBE' ever decide to go after each other. But Mayweather actually took the dive and faced a 190 lbs Logan Paul, while he himself was at 160 lbs.
So, Anthony Joshua can also cross his mind. Nevertheless, Logan Paul is a YouTube boxer, whereas Joshua is a world champion. Thus, facing Paul and 'AJ' will be very different. Here's a look at the physical features that will create the contrast.
Anthony Joshua
Age:- 31, Height:- 6'6", Reach:-  82", Weight:- over 230 lbs
Floyd Mayweather
Age:- 44, Height:- 5'8", Reach:- 72", Weight:- around 160 lbs.
Can Anthony Joshua beat Floyd Mayweather?
Boasting a 50-0 professional record, Mayweather stands tall before Anthony Joshua's active resume of 24-1. However, these numbers reflect the elites to be possessing variant skills in their arsenal. Having secured 22 wins in 24 via KO, 'AJ' knows how to finish his opponents.
Meanwhile, Mayweather has 27 stoppage wins in 50, which cites him to be a fighter going for full-length contests. 'AJ' is an attacker whereas Mayweather seems a defender.
ADVERTISEMENT
Article continues below this ad
So how will they trade with each other? Clearly, both men will bring their best side. On that note, Mayweather cannot afford to brawl with Anthony Joshua. Given the advantages of the physical parameters, Joshua needs one shot to feed Mayweather to the canvas.
On the other end, Floyd Mayweather's jabs and power punches may be very bleak to put a dent in the gigantic 'AJ'. While we saw Logan Paul dominate Floyd Mayweather for a brief period in the ring, it assures what Anthony Joshua can do to a washed-up Mayweather.
ADVERTISEMENT
Article continues below this ad
Although Floyd Mayweather is rightly an all-time legend of the sport, he would always go down losing in a potential fight against Anthony Joshua. But that doesn't take away the glorious achievements he has attained throughout the years.
Watch This Story: Top 5 Best Selling PPV Fights of Floyd Mayweather's Boxing Career