Canelo Alvarez and Caleb Plant Brawls Out: Ryan Garcia, Claressa Shields, Devin Haney, and Other Reacts
Published 09/22/2021, 6:52 AM EDT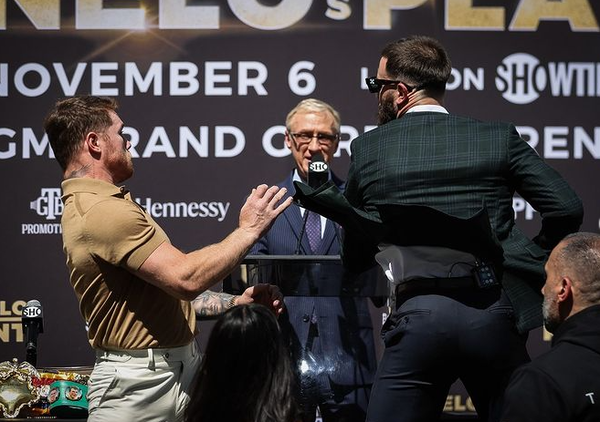 ---
---
It was shocking to see Canelo Alvarez and Caleb Plant trade blows at the recent face-off, way before their scheduled scrap on November 6. Although security was quick to separate them, Alvarez and Plant had already provided an intense moment by that time. The two had landed shots on each other, in what appeared to be a slap from Plant's side and a counter hook from Alvarez.
ADVERTISEMENT
Article continues below this ad
Undefeated IBF super-middleweight champion, Plant also suffered a cut below his eye. Hence, the minor brawl was actually a heated physical altercation that could have been much worse. However, it has intensified the upcoming unification fight for some obvious reasons.
The winner of the showdown will be the first to hold four world titles simultaneously in the 168lbs division's history. Thus, the recent altercation has added the necessary spice to the historic title fight. Meanwhile, several people have already seen the scuffle as a contest, putting their opinion on the whole scenario.
ADVERTISEMENT
Article continues below this ad
Umpteen netizens applauded Alvarez's countershot abilities, a portion of which was reflected in the latest brawl. Meanwhile, others expressed their shock at the scenario via Twitter. Here's how the boxing world reacted to the media altercation between Plant and Alvarez.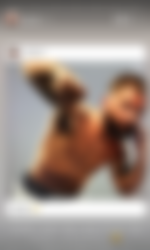 Canelo already countering him it'll be a long night for plant

— RYAN GARCIA (@RyanGarcia) September 21, 2021
Some boxing fans also chimed in on the debate.
I think Plant did amazing handling the fact he couldn't land a sneaky punch,but then said it's roid rage.And kept he attitude like he just put Canelo in his place.Atleast we know he can get an acting gig,when his careers is dunzo.

— BiggSalBeezy (@sal_bigg) September 22, 2021
Canelo just called someone a motherfucker after his last fight though 🤨🧐

stop tryna defend his lack of knowledge on cursing in English, plant was not talking about his mother he was mad about the juicing issue the reynoso team has

— ZAY GREEDO 🇵🇷 (@ZAYGREEDO) September 22, 2021
What's even more telling here is that Plant already saw a small piece of what he will see the entire fight. Plant swung and got nothing, then got smacked upside the head for good measure. Haha

— Jose Pocasangre (@JosePocasangre5) September 22, 2021
Meanwhile, the scuffle appeared to have been costly for IBF champion Caleb Plant. Although he didn't take any severe injuries, the cut below his eye gave him a taste of Alvarez's prowess. However, the P4P king has justified his actions, revealing the root cause of the entire feud.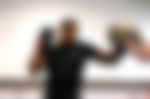 Canelo Alvarez vs Caleb Plant- the Super middleweight feud
While the 168 lbs champions were locked in an intense face-off, they suddenly began hitting the other. They had clearly shared a piece of verbal war, which the P4P king revealed in his media interaction after the whole scenario. Moreover, he took to social media to warn his rival.
ADVERTISEMENT
Article continues below this ad
In a chat with the reporters, Canelo Alvarez said, "Oh, he talked about my mum. He said 'you motherf**ker' so you passed the line right there, so that's why I pushed him, and then he came back with a left hook. That's what happened."
ADVERTISEMENT
Article continues below this ad
However, the talking has just begun and there's still a handful of pre-fight events incoming. So the ongoing situation can offer some more entertaining moments as we get closer to the fight date.
Watch This Story: Most Dangerous Heavyweight Boxers in 2021