Canelo Alvarez Believes He Would Beat Julio Cesar Chavez if They Faced Each Other in Their Prime
Published 02/27/2021, 5:00 AM EST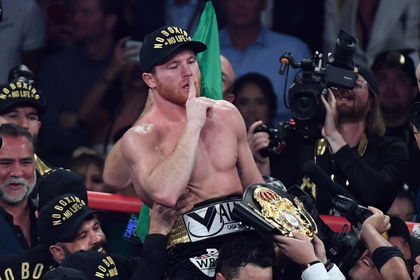 ---
---
Pound-for-pound star, Canelo Alvarez, has made a bold claim about his boxing ability. The Mexican superstar showed his confidence in beating a former Mexican superstar in Julio Cesar Chavez. However, is the champion, right?
ADVERTISEMENT
Article continues below this ad
Alvarez is undoubtedly one of the sport's biggest stars right now. Despite this, he is arguably not even the best Mexican boxer of all time. Many consider Julio Cesar Chavez to be Mexico's best export in the sport.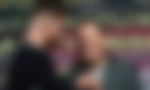 ADVERTISEMENT
Article continues below this ad
However, Alvarez is having none of it. He spoke to Ahora o Nunca ESPN in a video that was later translated by ESPN Ringside. When asked about who he would like to face in their prime, Alvarez was quick to respond with, "No, Julio Cesar Chavez, Julio Cesar Chavez, yes."
This showed the Mexican's eagerness to get a fight against the legendary boxer. Alvarez then spoke about who he thought would win.
"Well, I do. I always see myself as the winner," said Canelo. Moreover, when the host pointed out that Chavez had also picked Canelo to win, he said, "Oh great, then we're good. Thank you champ."
These comments from the multi-weight world champion showed just how much he wants to prove a point to the boxing world.
READ: Canelo Alvarez: How Many Divisions Has the P4P King Conquered?

Is Canelo Alvarez right about beating Julio Cesar Chavez
?
It is extremely difficult to compare both fighters since they boxed at different eras. Chavez dominated the boxing scene from 1980 to 2005. He fought over one hundred professional bouts and only lost 6. Moreover, many considered him the best P4P fighter of that era.
Alvarez has fought 57 professional fights (54-1-2) and his triumphs include a victory over Chavez's son, Julio Cesar Chavez Jr. In addition, just like Chavez, he has conquered three weight classes. Therefore, there is nothing to separate the two Mexican boxers.
ADVERTISEMENT
Article continues below this ad
However, when one looks at their physical attributes, Alvarez has a four-inch reach advantage over Chavez while they are similar in height. This could be the one aspect that would separate the two in an evenly matched contest.
What do you make of these comments from Canelo Alvarez? Do you think he could beat Julio Cesar Chavez in a fantasy clash?
ADVERTISEMENT
Article continues below this ad