Canelo Alvarez Might Break His Longtime Pledge To Fight This Monster
Published 03/16/2023, 7:30 AM EDT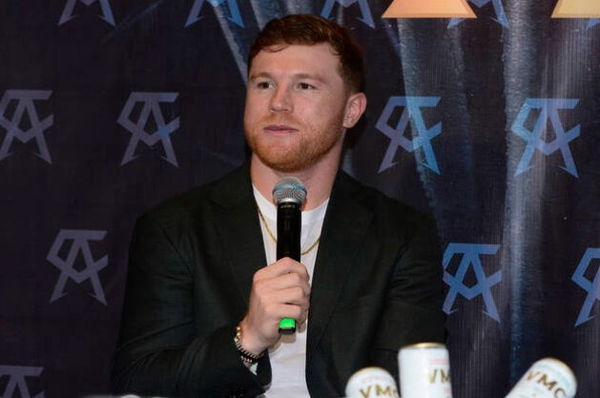 Canelo Alvarez, the undisputed super-middleweight champion has officially announced that he is going to defend his title against the British John Riyder. The fight is big for both Mexican folk and Canelo because it would be the first time in the last eleven years that the 32-year-old boxing icon is going to fight in his home country. For the 35th appearance in his country, the four-weight division champ has booked a Cinco de Mayo weekend that will see Akron Stadium in Guadalajara chanting his name on Saturday, May 6.
The boxing world is looking at this fight as a tune-up bout for Alvarez. It will be the second defense of his title since he fought his long-time rival Gennady Golovkin in September 2022. He won the fight by the decision but unfortunately, it inflicted a severe hand injury. So before taking up any big challenge, Alvarez wants to test himself against an easy opponent to set the rhythm for the upcoming bouts.
ADVERTISEMENT
Article continues below this ad
Though he is going into the fight with the British, his eyes are on March 25. This day will see two former super middleweight champions Caleb Plant and David Benavidez coming together to decide the mandatory challenger for Alvarez in the grudge match. The importance of this fight could be understood by the press conference that the Classic power puncher kicked off with Ryder where he talked a lot about it and made a big claim about his longtime pledge.
What did Canelo Alvarez say about his pledge?
According to Alvarez, he represents Mexico therefore he would not fight any fighter who is from Mexico or has links to the heritage. However, he is facing criticism for his pledge. Benavidez, who links his root in Mexico, has emerged as a big challenge to Canelo's titles. Meanwhile, Canelo's rivals are accusing him of ducking Benavidez.
ADVERTISEMENT
Article continues below this ad
Putting light on this context, Canelo hinted at breaking his pledge as he believes that Benavidez will win the fight against Plant which will ultimately make him a mandatory challenger.
"I think that Benavidez is going to win. I hope he doesn't have Mexican blood and well, as far as fighting is concerned, we'll see. No, we'll see, everyone has their commitments and we'll see later", Canelo said. ( Google Translate).
What do you think of Canelo's claim? Do you think Benavidez will win against Plant? Let us know in the comments below.
ADVERTISEMENT
Article continues below this ad
READ MORE – Five Mind-Blowing Things About Canelo Alvarez's Multi-Million Dollar Mansion in Guadalajara
Edited By: Jayant Chhabra