Canelo Alvarez vs Avni Yildirim: Full Undercard Predictions
Published 02/24/2021, 3:30 PM EST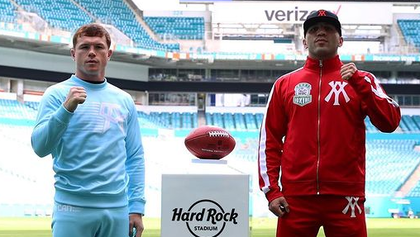 ---
---
Canelo Alvarez vs Avni Yildirim for the WBA and WBC super-middleweight titles will attract attention from all over the world on February 27. However, a lot has to be credited to the undercard fighters, who will put everything at stake for a nail-biting night.
ADVERTISEMENT
Article continues below this ad
Apart from Alvarez, the fight card also has some star power in Julio Cesar Martinez and Zhilei Zhang. That said, the undercard is equally alluring and can set the proper stage for a blockbuster main-event.
According to DAZN, there will be several fights before Canelo Alvarez enters the ring. Meanwhile, one fight is still out of the radar, with one contender pulling out at the last moment. But the rest of the card is fixed and here's a preview of all those matchups.
ADVERTISEMENT
Article continues below this ad
Canelo Alvarez vs Avni Yildirim – Undercard predictions
There will be two-title fights on the card. It will begin at 8:00 PM EST and the main-event will seemingly hit our screens at 11:00 PM EST. However, if we see a range of knockouts happening, things can wrap up pretty quick.
Julio Cesar Martinez (C) vs. McWilliams Arroyo- WBC flyweight championship
A 5'2" tall orthodox boxer, Martinez hasn't lost a single fight since his maiden career loss on his professional debut. Boasting 13 KOs in 18 fights, 'El Rey' will be the favorite over Arroyo. Martinez has a reach of 64", similar to that of his opponent. But it might not play a pivotal role.
McWilliams Arroyo is also an orthodox boxer and is currently on a three-fight win streak. However, his resume has seen 4 losses with 20 wins. That said, boxing isn't a calculative sport. Still, Arroyo would remain the underdog under valid parameters.
Prediction:- Julio Cesar Martinez beats McWilliams Arroyo via UD
Zhilei Zhang vs. Jerry Forrest (Heavyweight)
Undefeated Chinese prodigy Zhilei Zhang envisions to fight for the heavyweight strap ahead. So, his upcoming fight will have a crucial role to play. In a battle between two southpaws, Zhang will put his clean record on the line against Jerry Forrest.
Meanwhile, 32-year-old Forrest is a veteran heavyweight and has danced against some of the best punchers. So, he knows what it takes to bag win. While his future also lies on the result of the fight, Forrest can land a major upset. But considering Zhang's advantage in height, he can turn the tables in his favor.
Prediction: Zhilei Zhang knocks out Jerry Forrest (Round 4)
Diego Pacheco vs. Rodolfo Gomez Jr. (Super middleweight)
Undefeated 168 pounder Diego Pacheco will welcome Rodolfo Gomez Jr, inside the ring. Having set his hands on 10 wins, Pacheco has begun his career on a wonderful note. But he is still new and vulnerable to shock defeats, and his upcoming fight will clearly test his caliber.
On the other side, Gomez Jr. will have a tremendous opportunity to revive his boxing career. On bagging a win, he can resurrect his spot amongst the elites, But it won't be a simple task, especially after such a long layoff. So, he might struggle inside the squared circle.
Prediction:- Diego Pacheco defeats Rodolfo Gomez Jr.via UD.
Alexis Espino vs. Ashton Sykes (super middleweight)
The new super middleweights are trying their best to climb the ladder high, and for that, they need to surpass each other. Boasting a record of 6-0, Alexis Espino will lock horns against Ashton Sykes. Surprisingly, both of them shares the same height.
However, it won't put an effect on their in-ring clash. Both pugilists are fast-paced and have intense power on their fist. Thus, the man to land the bigger shot first would claim the win. But if the fight goes to the distance, we can expect some shocking outcomes.
Prediction:- Alexis Espino knocks out Ashton Sykes (Round 2)
Marc Castro vs. Lester Brown (Junior lightweight)
Following a successful debut against Luis Javier Valdez, Marc Castro will embrace the ring against Lester Brown. That said, Brown has failed to create an impact on his performance.
Boasting a record of 4-2-3, his pro career is on the clutch of severe criticisms. If he aims for a resurrection, it can't be better than his next fight, Castro is still new to the professional circuit and Brown can use it to his advantage.
Prediction:- Lester Brown knocks out Marc Castro (Round 3)
Aaron Aponte vs Harry Gigliotti (junior welterweight)
Despite having no major pro accolades, Aaron Aponte can be a problem inside the ring, He is a treacherous puncher at the gym and can put it on display on the fight night. However, Harry Gigliotti can respond with a similar heat from his end.
ADVERTISEMENT
Article continues below this ad
It will be a tough fight between two new contenders at junior welterweight, But the fight will only be staged for 4 rounds. So, the early aggressor can bag the win.
Prediction:- Aaron Aponte knocks out Harry Gigliotti (Round 1)
There are still doubts remaining over a few fights regarding the scheduled contenders, But the rest of the card is set to let the fans witness a great night of boxing.
ADVERTISEMENT
Article continues below this ad