Canelo Alvarez vs Billy Joe Saunders:- Undercard Preview and Prediction
Published 05/07/2021, 1:00 PM EDT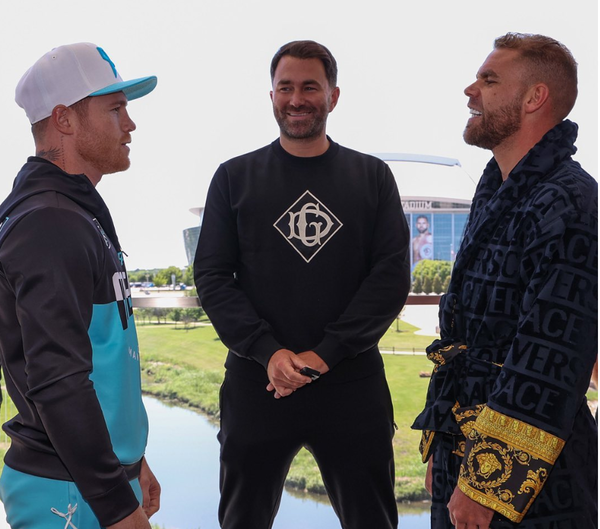 ---
---
Canelo Alvarez will fight Billy Joe Saunders in a unified super-middleweight title fight on May 8 at the AT&T stadium. Despite the bout being such a high stake one, it won't be the only attraction on the night.
ADVERTISEMENT
Article continues below this ad
Matchroom Kingpin Eddie Hearn, and his team, have worked to stage an alluring event, which will craft the upcoming structure of the super-middleweight title ride.
ADVERTISEMENT
Article continues below this ad
Apart from the main event, there will be several more fights on the card. Thus, boxing fans can expect a nail-biting weekend ahead. There will be four title fights in total and three non-title bouts. Here's a deeper look into the undercard.
Canelo Alvarez vs Billy Joe Saunders Undercard
The event will begin at 8:00 PM in the USA, with Alvarez and Saunders making their way to the ring three hours later. However, this will depend on the undercard fights, which we will preview in this article.
Elwin Soto (C) vs Katsunari Takayama – WBO light flyweight championship
Soto, 18-1 has been super active in the past few years and has already had three successful title fights under his name. After a successful debut in 2016, Elwin Soto suffered a defeat in his third pro fight against Daniel Andujo. However, he has come back stronger from it and has been on a tear since then.
The orthodox boxer will have an inch advantage in height against the former world champion in Takayama. The latter's 40-fight (32-8) experience can prove pivotal. However, the Japanese puncher, who is currently on a two-fight win streak, has fought only twice in the past five years. Thus, it wouldn't be easy to grab the world title from Soto.
Prediction:- Elwin Soto beats Katsunari Takayama via Knockout (3 round)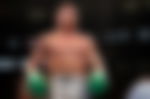 Kieron Conway vs Souleymane Cissokho- WBA Intercontinental super welterweight championship
16-1-1- as a pro, Kieron Conway is on a four-fight win streak and will challenge the undefeated Souleymane Cissokho for the WBA strap. The battle between two punchers will be a unique treat.
However, Cissokho's precision and knockout ability can be an enormous factor in the fight. He has attained 8 KOs so far and comparing it against Conway's 3 KOs, the French boxer comfortably remains the favorite. While Cissokho is yet to win a title in the pro run, his bout on the Alvarez vs Saunders undercard can change that.
Prediction:- Souleymane Cissokho beats Kieron Conway via Knockout (4 round)
Frank Sanchez vs Nagy Aguilera- WBC Continental Americas Heavyweight championship
6'4" tall Cuban boxer, Frank Sanchez, will put his undefeated record of 17-0 at stake against a veteran in Nagy Aguilera. The former will have a minor reach advantage over the latter in this bout.
However, Aguilera's 31-fight experience can come in handy. He is 21-10 as a professional and is 2-1 in his last three fights. His win-loss ratio falters and going by the numbers, the 28-year-old Cuban is the favorite.
Prediction:- Frank Sanchez beats Nagy Aguilera via unanimous decision.
Marc Castro vs Irving Castillo
This can be another interesting matchup between two prime youngsters on their rise. Castro made his pro debut in December 2020 and re-appeared in February. He has won both the fights via KO and with a 2" height advantage, he is in prime position to go 3-0 on May 8.
Irving Castillo is a three-year veteran with a 9-1 record. Akin to Castro, Castillo, who has also been super active in recent times, will have his fair chances in the fight. Thus, it can be one of the most fairly matched fights on the card.
Prediction:- Marc Castro beats Irving Castillo via majority decision.
Keyshawn Davis vs Jose Antonio Meza
Davis (2-0) and Meza (6-4) will lock horns in a fight that can either go to the distance or finish in a flash. The matchup appears to hold different priorities for both men. While Meza will try to bounce back from a career of highs and lows, Keyshawn Davis will try to continue his unbeaten streak.
As of now, Keyshawn Davis has a KO ratio of 100% and could maintain it against Meza despite having a two-inch reach disadvantage.
Prediction:- Keyshawn Davis beats Jose Antonio Meza via Knockout (first round)
Christian Alan Gomez Duran vs Xavier Wilson
This is another matchup featuring a KO specialist and a decision specialist. 19-2-1 as a pro, Duran, who has 17 KOs under his belt, holds a KO ratio of 77.27%. Whereas, Xavier Wilson is 11-2-1 and has only one KO win in his record. Thus, his KO ratio stands at 7.14%.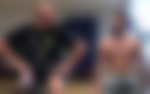 Meanwhile, Wilson, who lost his last fight, will try to return to the win column. On the other side, Duran will try to advance his three-fight win streak this week. Based on the current form, it appears Duran will leave the AT&T Stadium with a fourth win.
Prediction:- Christian Alan Gomez Duran beats Xavier Wilson via Knockout (third round)
Kelvin Davis vs Jan Marsalek
The USA's Kelvin Davis, who is 22-11 in the professional ride, will have a chance to showcase his experience against Jan Marsalek (4-7-1). This fight can be the opening bout for the event. Although it doesn't hold any relevancy in the title ride, fight fans can still pick up some interesting factors.
ADVERTISEMENT
Article continues below this ad
The fight result can help both men help resurrect their position. Hence, they can unleash a nail-biting contest to begin the night for the fight community. As Davis has the experience, we think he will have his arm raised.
ADVERTISEMENT
Article continues below this ad
Prediction:- Kelvin Davis beats Jan Marsalek via unanimous decision.
How do you see the event going this weekend?