Chael Sonnen Not Happy with Bob Bennett – Says he's a Problem to the Sport of Boxing
Published 11/17/2020, 7:20 AM EST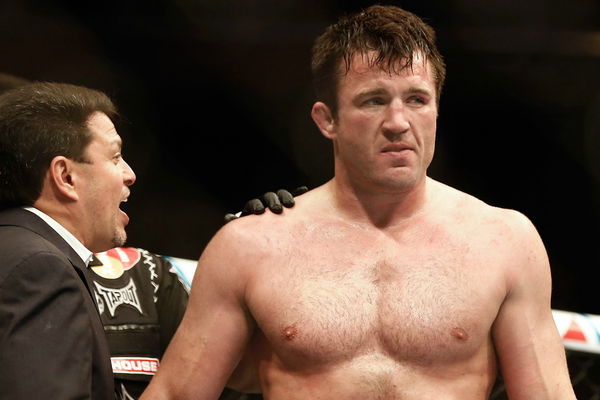 The rematch between Andrew Moloney and Joshua Franco ended in a tragic 'no contest'. Match officials and referees came up with this decision after a suspected 'head-butt'. The result gained huge criticism from Combat sports fans around the world. Joe Rogan, Ariel Helwani, and many more were appalled at the controversial decision. 'The American Gangster' Chael Sonnen recently shared a video of Top Rank Promoter, Bob Arum, where he is seen criticising Bob Bennett, the NSAC Executive Director and the referee pertaining to their emotive decision.
ADVERTISEMENT
Article continues below this ad
ADVERTISEMENT
Article continues below this ad
Chael Sonnen wrote, "Mistakes are a challenge to life. Bob Bennett is a challenge to the sport."
He broached Bennet as a problem to Boxing and for NSAC's unfair decision towards Moloney.
Arum condemned the match officials & the committee, saying, "They kept with it to protect the referee who didn't know what the hell he was doing."
Arum got into a verbal spat with the NSAC Executive Director Bob Bennett post fight.
Nevada commission executive director Bob Bennett and Top Rank's Bob Arum just got into it ringside at MGM. Bennett started yelling at Arum as they were talking privately, and the two were quickly separated.

— Brett Okamoto (@bokamotoESPN) November 15, 2020
When asked about his confrontation with Bennett, Arum said, "I was discussing, people just blame me because I am the promoter. I have got nothing to do with the goddamn thing. I just want a fair adjudication. They made a mistake. The referee made a mistake and they have his back. Its clear. It's not even close."
Was there a head-butt in round 1?
Franco complained to the referee in third round about not being able to see from his right eye. The match officials took nearly 26 minutes to land up on a 'no contest' decision.
ADVERTISEMENT
Article continues below this ad
As per Molony, his constant jabs to Franco's face caused the damage. He hoped the committee will offer him a trilogy fight with Franco to settle his scores.
Moloney won both the rounds with 20-18 and looked sharp to reclaim his Super Flyweight title. He dazzled Franco with quick jabs and an impressive combination of body shots.
How do you assess committee's decision towards this fight? Should there be an immediate rematch between the two?
ADVERTISEMENT
Article continues below this ad
Let us know in the comments below.
 READ MORE – "My God Did This Man Get Robbed?" Joe Rogan Appalled at Boxing Result Controversy