Claressa Shields Reveals What Mike Tyson Said About Her Legacy
Published 09/27/2021, 8:50 AM EDT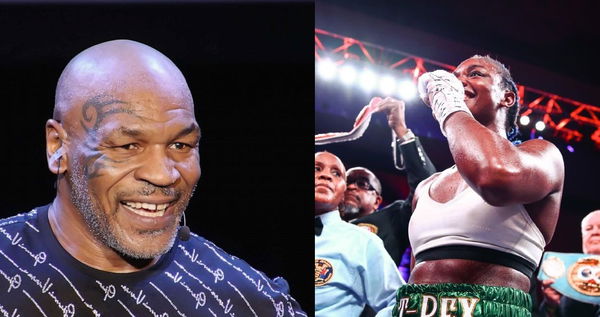 ---
---
Despite recent changes in ESPN's P4P rankings, Claressa Shields is undoubtedly the face of women's boxing right now. In a recent interview, Shields talked about changes in the pound-for-pound rankings on ESPN and the Ring Magazine.
ADVERTISEMENT
Article continues below this ad
Shields talked about how she believes such changes are made specifically to grab her attention, response, and instant reaction. 'T-Rex' expressed her disinterest in reacting or responding to the people curating these p4p lists.
Claressa Shields also recently appeared on Mike Tyson's podcast. Shields talked about meeting Tyson and shared that the legendary boxer was surprised as well as impressed by her. 'T-Rex' also revealed how Tyson watched her fights and realized that she actually knows her stuff to the core.
ADVERTISEMENT
Article continues below this ad
"I think that ESPN and the Ring with these P4p lists, it's their job to cause controversy, it's their job to get a reaction out of me, I decided that I'm no longer going to react to them because I am the greatest woman of all time, 'Iron' Mike Tyson said it!
"We sat there and watched my fights together and he just was like 'wow!', he said after you throw your right hand, come back with a hook and then my next combination was a right hand and a hook, he was like 'oh! you know what you're doing' absolutely!" said Claressa Shields.
Claressa Shields vs Savannah Marshall – Bad blood?
In the pro boxing domain, Claressa Shields holds a neat and undefeated record with 11 wins (2 KOs). As an amateur, she fought 65 times, won 64 (5 KOs), and lost just one fight.
So far, this single amateur loss is the only deviation in her otherwise clean record.
Shields is now looking to clean out the only missing piece of the puzzle – Savannah Marshall, the only woman who made it past Claressa Shields.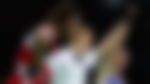 ADVERTISEMENT
Article continues below this ad
Over the years, the two have developed quite a rivalry. There is clearly some bad blood between the two, and that is evident from their banter on social media.
Marshall recently called out Claressa Shields and said that she can punch harder than 'T-Rex'. The WBO titlist also promised to "break her down" when they finally fight.
ADVERTISEMENT
Article continues below this ad
Both champions have now signed onto Sky Sport's BOXXER Series events, which are one-night tournaments that provide opportunities and exposure to boxers across the UK. This could lead to an ultimate showdown between the two fighters in the near future.
Savannah Marshall has called her fight with Shields "the biggest fight in women's boxing history" and believes it will happen by next year.
'T-Rex' wants to fight Marshall by December
Claressa Shields recently highlighted that her team had made Marshall an offer in 2018, even before she won her title, but she declined.
"We wanted to fight Marshall in December. But all that stuff she was talking? She is not ready. She needs more time. For somebody who is a big knockout artist? It doesn't seem that she's ready to knock me out!" said Claressa Shields.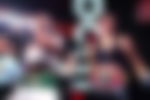 The WBO middleweight champion responded to this claim by saying that her trainer, Peter Fury, advised her against the fight. In 2018, Marshall and her team deemed it fit to fight Sheilds in two or three years to make the matchup a more lucrative deal.
Now, though, both fighters are in agreement that they are bound to cross paths once again.
Shields' co-promoter Dmitry Salita recently said that they are looking to make a UK debut before heading into negotiations for the Savannah Marshall fight. He added that the teams are looking to make that happen before the end of this year.
Claressa Shields is currently focused on her next MMA fight (PFL) against Abigail Montes on October 27. Post that, she will head back into the squared circle for a mandatory title defense, possibly in the UK. By the time that is wrapped up, Shields could then possibly go head-to-head with her old rival.
 Also Read: Caleb Plant Ridicules Canelo Alvarez With 'Undisputed Motherf****r' T-Shirt