CONTROVERSY! The Only Time Floyd Mayweather Got Knocked Down
Published 05/11/2021, 4:00 PM EDT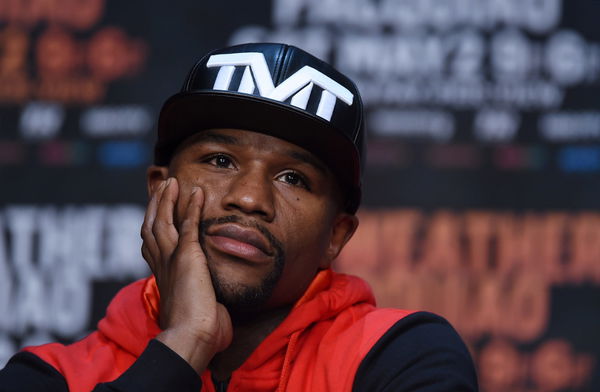 ---
---
Boxing legend Floyd Mayweather has left no blueprint for his contemporaries to pick up a dent in his fighting style. 50-0 as a professional, Mayweather has faced 16 world champions in his career and has held titles at five distinct divisions.
ADVERTISEMENT
Article continues below this ad
Having achieved so much, the American boxer has never seen a defeat, and it arguably makes him the greatest man ever to have laced up his gloves. However, the invincible champion was doomed down to the canvas once, and it apparently shook the world.
ADVERTISEMENT
Article continues below this ad
While Floyd Mayweather has achieved it all, that scary knockdown might remain as a scar on his glittery resume. Here's a look at the night when Mayweather hit the canvas. Although he departed with the win, it was not like his rest of the victories.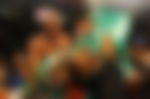 Floyd Mayweather and the Big Knockdown
In 2001, Mayweather stepped up to defend his 25-0 record and the WBC super featherweight title against a veteran Carlos Hernandez. The unbeatable Floyd Mayweather took a count as his Salvadoran rival struck him to the mat.
While Mayweather looked comfortable for the first five rounds, he suffered the mere setback in round six. It was hard to see him go down, and many predicted the outcome to go differently.
But Floyd Mayweather bounced back and outworked his rival till the final bell. Hence, he became 26-0 and retained the WBC and lineal super featherweight belts in fashion. Meanwhile, Mayweather almost suffered the second knockdown of his career when he fought Zab Judah for the IBF and IBO 147 lbs belts in 2006.
ADVERTISEMENT
Article continues below this ad
It wasn't ruled as a knockdown, but a slip. However, Judah could get a crack at Mayweather, He power punched 'Money May' with a right hand and Mayweather almost fell off. It urged the referee to restart the contest and turn it into a slip. But many fans saw it as a knockdown and began billing Mayweather as crackable.
Nevertheless, Mayweather regained his rhythm and unleashed a lopsided show to vanquish Zab Judah for the welterweight golds. Amid a near-perfect boxing career, these mere setbacks built Floyd Mayweather even stronger.
ADVERTISEMENT
Article continues below this ad
How would you rate Floyd Mayweather's greatness on a scale of 1-10?