Daniel Dubois Out for 5 Months – Will Undergo Surgery
Published 12/02/2020, 6:29 AM EST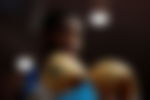 ---
---
Daniel Dubois suffered a TKO loss to Joe Joyce on November 28. The duo finally settled their prolonged beef inside the boxing ring, where Joyce knocked out the 'Dynamite' in the tenth round. Joe Joyce's powerful jabs left Dubois' left eye wickedly swollen.
ADVERTISEMENT
Article continues below this ad
Following the match, it emerged that the boxer may have suffered a retinal bleed in addition to a broken orbital bone.
Daniel Dubois may need surgery, facing five month layoff https://t.co/IFYZnZAt6g

— Bad Left Hook (@badlefthook) December 2, 2020
ADVERTISEMENT
Article continues below this ad
Undoubtedly, the 23-year-old Dubois entered this much-awaited battle as a favorite, but Joyce's vast amateur experience helped him continue his undefeated run at the professional level. Joyce has improved to 12-0 whereas the 'Dynamite' saw his own undefeated streak snap.
Joyce kept his left jab moving throughout. Dubois failed to cover up on the same and paid the price. Post his loss, Dubois admitted Joyce caught him with good jabs and he was pretty accurate with it. While he was knocked down in round 10, 'Dynamite' could not see through his left eye and took a knee till the count of 10.
READ – "I Thought it Would Be Harder"- Joe Joyce Looks Back at His Dominating Win Over Daniel Dubois
On the flip side, Joyce credited Dubois for his ferocious power and admitted that he ate a few good shots from his countryman. Despite that, the record books will always show that 'Dynamite' surrendered his world titles. He has promised his fans that he would return stronger and tougher than ever. But, it may take a while.
Daniel Dubois to undergo a long layoff?
The 23-year-old Dubois faced multiple injuries in his battle against Joyce, principally his left eye bore the brunt of the punishment. He visited a specialist for that swollen eye, but it's pretty unclear about him undergoing surgery for the same.
ADVERTISEMENT
Article continues below this ad
A surgery might force the youngster out of the sport for nearly half a year or more. But, in order to ensure that the injury doesn't hamper his career, Dubois and his team may have to consider this alternative.
There is a huge chunk of experts who feel Dubois should not have given up no matter what, but simultaneously many went in his favor and felt he took a fair call to discontinue his bout and avoid sustaining further damage.
We wish the Dynamite a speedy recovery and hope to see him back to what he does best. Where do you think the 'Dynamite' fell short in his battle against Joyce?
ADVERTISEMENT
Article continues below this ad