Daniel Dubois vs Joe Cusumano: Age, Height, Weight, Reach, Net Worth, Record, and More
Published 08/23/2021, 7:48 PM EDT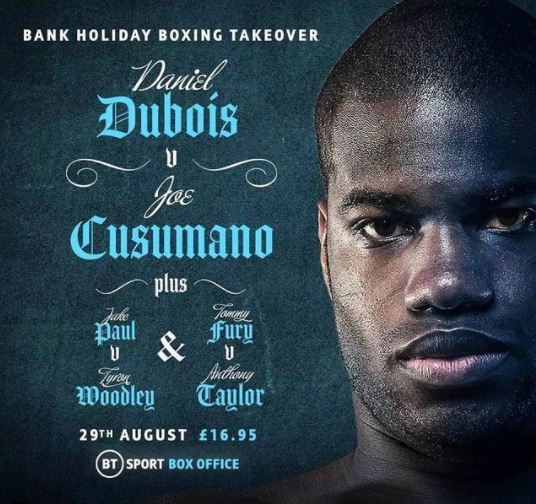 ---
---
Along with Tommy Fury, British heavyweight Daniel Dubois is now all set for his official United States debut. He will face a competent American boxer, Joe Cusumano, on the undercard of the mega Jake Paul – Tyron Woodley event on August 29. The Englishman is coming off a knockout win over Bogdan Dinu in June. Whereas his opponent last entered the ring in November 2020 against Gregory Corbin.
ADVERTISEMENT
Article continues below this ad
This fight is definitely crucial for both heavyweight contenders. The bout being under the Jake Paul – Tyron Woodley umbrella will expose both fighters to a much larger platform. A win on the undercard of this event could open doors for more recognition and even bigger opportunities in the heavyweight division.
ADVERTISEMENT
Article continues below this ad
As the two head into battle on August 29, here's everything you need to know about them to make a fair assessment and prediction of the outcome –
Daniel Dubois vs Joe Cusumano: Records and Stats
As an amateur boxer, Daniel Dubois has 18 bouts under his belt and has won 13 (8 KOs), and has also lost 5. The British heavyweight kicked off his professional boxing career in 2017. As a pro-boxer, Dubois has fought 17 times and has secured 16 wins (5 KOs). In 2020, he suffered his first-ever loss against Joe Joyce by way of knockout. However, he reinserted himself in the win column by knocking out Bogdan Dinu.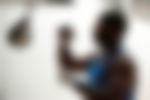 Joe Cusumano started his professional career in 2010. Over the years, he fought 22 times, has won 19 times, and has also lost 3 fights. In 2019, Cusumano lost to Steve Vukosa via unanimous decision. However, he redeemed himself by bagging a knockout win over Gregory Corbin in 2020.
Age, Weight, Height, Reach and Size
Daniel Dubois is still only 23-years-old. The British heavyweight is 6 feet 5 inches or 196 cms tall and has an arm reach of 78 inches or 198 cms. On the other hand, his 33-year-old American counterpart, Joe Cusumano, is 6 feet 4 inches or 193 cms tall. However, there is no official information about his arm reach on different sources.
Compared to Joe Cusumano, Daniel Dubois is taller and bigger. In a potential face-off between the two, the 23-year-old would easily tower over his American opponent.
Net Worth, Fame and Social Media Stardom
According to sportekz.com Daniel Dubois was worth a reported $1.9 million. His primary source of income is from his professional boxing career. He earned a reported $500,000 for his fight against Ricardo Snijders.
However, given that his upcoming fight against Cusumano is under the Jake Paul – Tyron Woodley card, his net worth could sky-rocket over the next week.
The 23-year-old also has an impressive social media following. On Instagram, he has close to 181,000 followers.
According to Net Worth Post, Joe Cusumano's net worth stands around $500,000. As for his social media stardom, there is no official information available on different sources.
Daniel Dubois vs Joe Cusumano: Fight Preview
Following a win over Bogdan Dinu, Daniel Dubois grabbed the WBA Interim heavyweight title. Nevertheless, it's not clear whether he will put it at stake against Joe Cusumano. As Dubois wants to earn a heavyweight world title soon, Cusumano can be his big test ahead.
Despite 'Dynamite' being the favorite against 'Juggernaut', Joe Joyce dismantled Dubois in 2020. Hence, the Brit star cannot afford to demean his nearing rival in Cusumano. However, he also has the reasons to voice his confidence and can look forward to advancing his win streak.
ADVERTISEMENT
Article continues below this ad

Daniel Dubois recently shared that he is planning to knock out Joe Cusumano in the upcoming bout on August 29.
Speaking with Behind The Gloves, Dubois said, "Every time I step into the ring I am [looking for a knockout]. So, it's not about looking for it. It will come. Once I am doing everything right, Shane and me and the whole team, what we have been working on and staying focused and ready. I want this. I want this, you know. So, we will make it happen."
ADVERTISEMENT
Article continues below this ad
How do you think this heavyweight clash plays out on August 29?