Deontay Wilder's Brother Confuses Readers With a Funny Typo
Published 06/29/2020, 12:59 PM EDT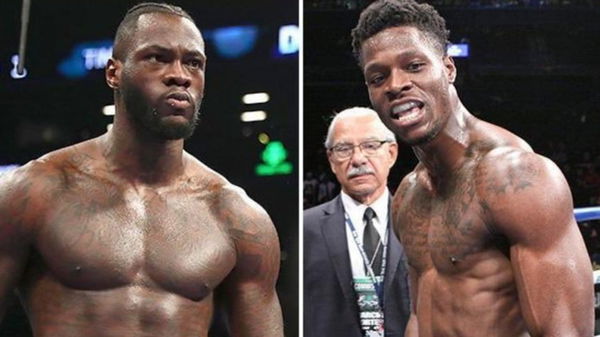 Marsellos Wilder, the brother of Deontay Wilder, alleged that the former WBC heavyweight champion was hit with a blunt object during his fight with Tyson Fury. Although he was serious about the claim, his post had many people laughing.
ADVERTISEMENT
Article continues below this ad
After their first fight ended in a split draw, Wilder vs Fury 2 was the fight to make. The duo collided in February 2020. Unlike the first match, the second one was completely dominated by Fury. The "Gypsy King" outboxed the American and even landed two knockdowns in the fight.
Eventually, Wilder's corner called off the bout in the seventh round, granting Fury the win. "The Bronze Bomber's" loss surprised many fans. Initially, Wilder claimed that his legs were severely compromised after wearing his walkout costume for more than 20 minutes.
ADVERTISEMENT
Article continues below this ad
Soon after the fight, conspiracy theorists said that Fury's gloves did not look normal in the fight. This basic assumption led to many more baseless theories. One of them was personally discarded by Fury's cornerman.
Recently, Wilder's younger brother said that Deontay suffered from an unusual head injury in his latest fight.
Marsellos Wilder claims that Deontay Wilder was hit with a blunt object
"You know it's crazy when you great they got to do everything that's underneath real to figure out how to stop you. The most wicked s— about is people on your own team will do anything for the hate. Money will help them opps (opponents) take you down.
"It was discovered by doctors that my brother has a dent in the side of his head. This is due to a blunt object struck against his head from his last fight. No glove or fist was able to cause the damage, according to the autopsy (tests).
ADVERTISEMENT
Article continues below this ad
"My daddy once told me if you pull a gun out on someone, you better kill them. Because if you don't, they are going to come back and kill you. The king is about to rise again. We coming for blood."
Did you spot the error yet? If you haven't then read carefully. Marsellos mentions that the autopsy revealed that no glove or fist could have done the damage. Well, autopsies are done on dead people and Deontay Wilder is not dead.
ADVERTISEMENT
Article continues below this ad
Jokes aside, there is absolutely no doubt that Wilder vs Fury 3 will be as exciting as the first two bouts. Both men will be better than ever. Even Fury said that he will have to be extra careful in the third fight.