Deontay Wilder's Extreme Diet and Training Routine Revealed
Published 03/26/2020, 3:06 PM EDT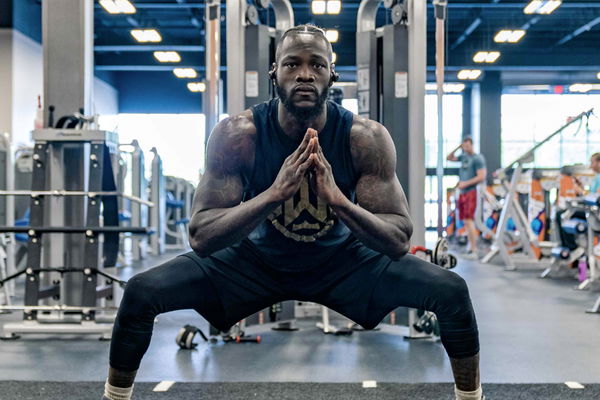 ---
---
With the trilogy between  Deontay Wilder and  Tyson Fury approaching, it's time to take a deeper look into how "The Bronze Bomber" prepares for his bouts. The fighter's diet plan and training regime are unique, with no restrictions. Though his raw energy and power might be genetic, his diet and training have a huge role to play in furthering his strength.
ADVERTISEMENT
Article continues below this ad
Deontay Wilder's diet plan
Trainer Peter Khoury places no conditions on Wilder. He follows a plan called "The Las Vegas" buffet diet. While calling the plan an actual diet would be an incorrect endorsement, nonetheless, it seems to fuel the 6 ft, 7 giant.
According to Wilder "They just feed me the food, I just eat it My stomach sometimes can be so fat that I have to rub it for hours. I'm not a big eater"
ADVERTISEMENT
Article continues below this ad
During camp, Wilder consumes six meals a day and supplements with 2 protein shakes per day. His daily calorie intake is anywhere between 6,000 -8,000 calories, depending on the weight cut and duration of the camp. Despite mammoth amounts of food being consumed daily, Wilder manages to maintain a relatively low body fat percentage.
Now that we have a rough idea of what fuels "The Bronze Bomber" let's get into the specifics of what he eats during camp.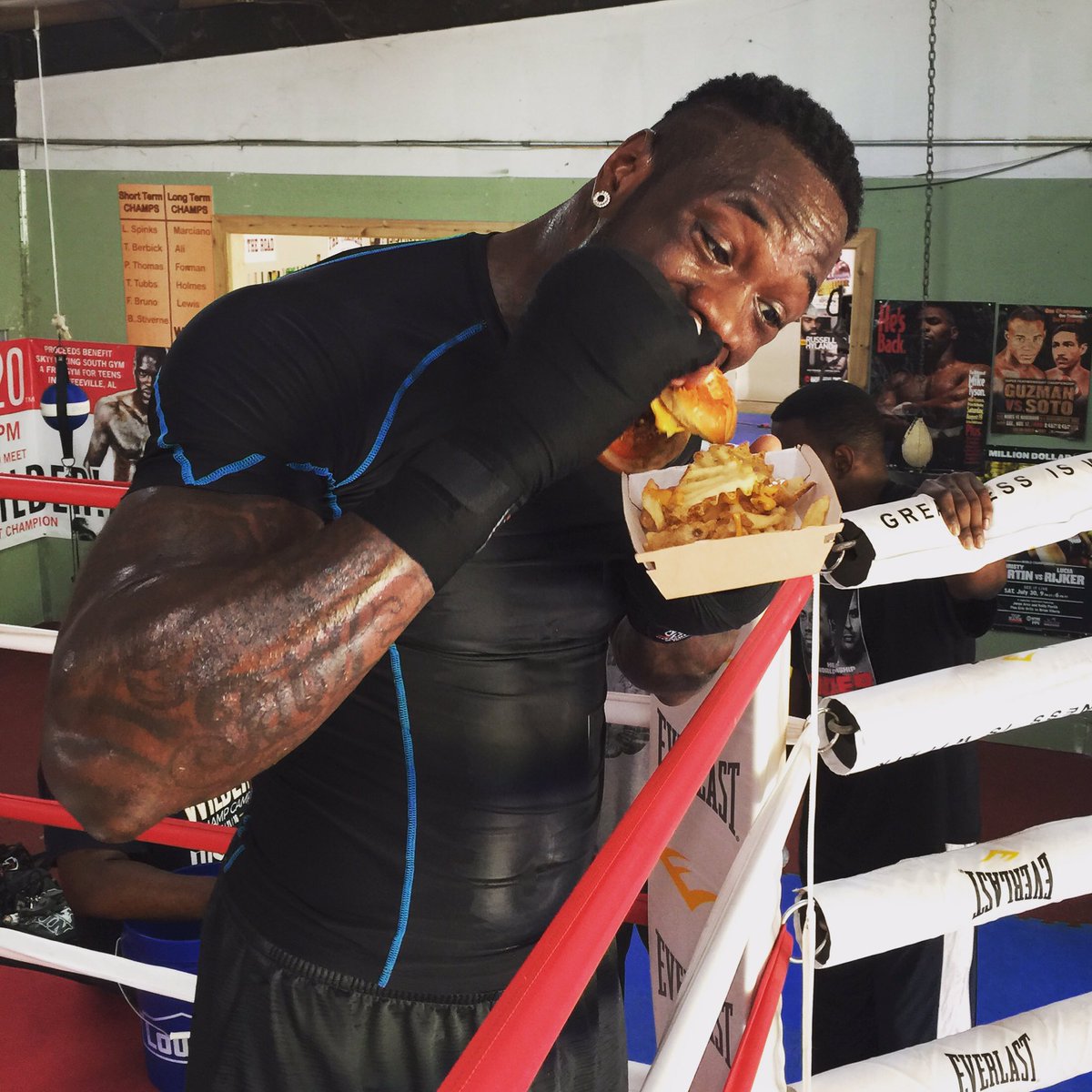 Breakfast (8 am)
Wilder's breakfast revolves around pancakes drenched in maple syrup, polish sausages, eggs, and a protein shake. Although this might seem like junk-food, the choice of food is highly purposeful.
The pancakes provide the carbs Deontay needs while training, and the sausages and eggs act as excellent sources of protein to build the "Greek God" body he possesses. Moreover, with the wear and tear often endured in training, the protein shake comes in handy assisting with active muscle recovery.
Although this might seem like a truck-load of food, Wilder ensures he has space for round 2.
Lunch (11:30 am)
For lunch, Wilder seems to prefer delicacies close to home. Alfredo chicken pasta, corn on the cob and garlic bread are staples in his diet.
Deontay chooses taste over nutrition in this regard. However, if his devastating knock-out power is anything to go by, it's surely working for him.
In what is perhaps the healthiest meal in his whole diet, Wilder keeps it light for his pre-workout fueling.
Pre-workout meal (2 pm)
Wilder keeps things simple before training, with a ham and tuna sandwich and two boiled eggs providing all the nutrition he needs before hitting the pads.
Post-workout meal (5 pm)
After a grueling workout, "The Bronze Bomber" stacks up on some serious protein. The famous Salisbury steak with a side of mashed potatoes and green beans powers the lean machine.
Dinner (7:30 pm)
Even after all these grueling meals, Wilder ensures there's place for a T-Bone steak, red potatoes, and more green beans, providing all the nutrition he needs.
Surely after consuming all these meals, one might get a series of diseases. But Deontay Wilder's training regiment ensures any excess calories are burnt off.
Deontay Wilder- Training Regiment
Deontay Wilder's work-out plan is nothing to scoff at. With a unique blend of resistance training, weight training and traditional boxing routines, trainer Peter Khoury ensures he conditions Wilder in all regards.
Wilder makes good use of his scuba diving certification, pool-based workouts part of his training. Pool workouts are effective as it's low-impact and high resistance, thus allowing him to activate all his fast-twitch muscles. Besides, Wilder wears a floatation device, allowing him to run in place and practice his technique.
Traditional boxing workouts form a bulk of his regiment. Wilder sticks to the classic heavy-bag and mitts, with regular spars ensuring Wilder is fight-ready. However, by his own admission, Deontay stays away from heavy lifting and traditional gym workouts.
According to Deontay Wilder
"Heavy lifting results in too much shoulder development, too much strength and size, what's happening is, you're pushing the punches, as opposed to snapping your punches."
ADVERTISEMENT
Article continues below this ad
This seems to be a smart approach by Wilder, as the exercise ensures speed over power, working towards his advantage.
For his conditioning, Wilder chooses 30 reps of 30-second sprints on the treadmill. He mixes it up with weighted vest and Bosu ball workouts, which ensure his balance is on point. He follows up this workout with 50-pound dumbbell runs along the gym's stairs.
With the whole world currently in a state of isolation, now seems to be the perfect time to look to Deontay Wilder for inspiration. From his exploits in the ring and hardcore training regiment, there's surely a lot to learn from "The Bronze Bomber".
Do you think you can keep up with "The Bronze Bomber's" workout? Let us know in the comments below!
ADVERTISEMENT
Article continues below this ad
READ : Bob Arum Gives Major Update on Tyson Fury vs Deontay Wilder Trilogy