Did Canelo Alvarez Cheat in the Second Golovkin Fight? Hand Wrapping Controversy Explained
Published 11/06/2021, 4:25 PM EDT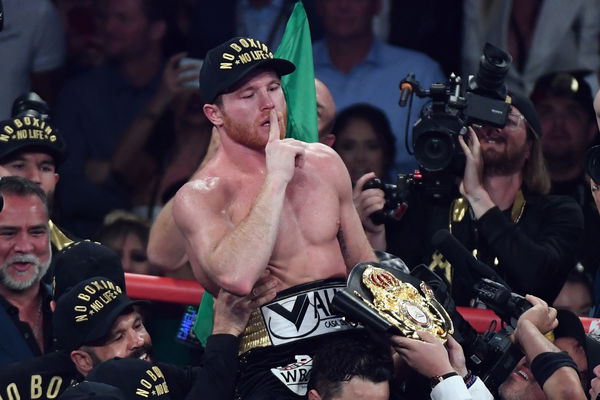 ---
---
Floyd Mayweather and Conor McGregor clashed on August 26, 2017. After this mega cash grab fight, boxing fans felt an urgent need to get a taste of real technical boxing. Three weeks later, fans of the sport got exactly what they asked for. On September 16, 2017, Canelo Alvarez and Gennady Golovkin engaged in a twelve-round battle, that will indubitably go down in the history books.
ADVERTISEMENT
Article continues below this ad
To date, the first leg of this bittersweet rivalry is considered to be one of the most sophisticated fights of all time. But, as Anthony Joshua famously said after the Ruiz rematch – "the first one was so nice, I had to do it twice", even GGG and Canelo felt the need to run it back after they drew the first time.
ADVERTISEMENT
Article continues below this ad
It made sense for the two middleweights to fight again; many in the boxing community felt the scoring in the first fight was inaccurate and biased towards the Mexican champ. So naturally, even Canelo could not simply stand on the sidelines and let the boxing writers and analysts write him off as someone who could not defeat Golovkin.
So, they both signed on the dotted lines and stepped into the ring once again in September 2018.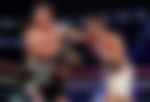 While Gennady Golovkin dominated as much as Canelo in the first fight, he just seemed off in the rematch. His striking agility was not at par and he could not even defend himself as well as he did the first time.
On the other hand, Saul Alvarez came in with a strong desire to show the world that he indeed deserves to be boxing's p4p king. And, he proved himself that night by defeating GGG by majority decision and becoming the division's unified champion.
Canelo Alvarez vs GGG 2 – The Hand Wrapping Controversy
Despite his victory in the second GGG fight, Canelo's victory did not come without yet another controversy clouding his achievements – the stacked hand wrap controversy.
A pre-fight locker room video shows Eddy Reynoso wrapping his fighter's hands. There is usually never much scope for glove tampering in the contemporary boxing landscape as there is a commissioner and a member of the opposite corner present in the fighter's locker room during the hand wrapping process.
However, the way in which Reynoso wrapped Alvarez's hands caused some tension between the two teams. This happened during the first fight as well. Canelo's hand wrap seemed a bit bigger in comparison to GGG's wrap and this raised a few eyebrows.
Golovkin's trainer, Abel Sanchez, was present in the room when Reynoso was wrapping Canelo's hands in the first fight. He even issued a public complaint in an interview –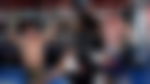 "They put the gauze on his hand and he put one layer of gauze on the hand and then they put the tape on top of the gauze," Sanchez said. "Immediately, I caught that and I said, 'Whoa! Whoa! Whoa! That's illegal. He can't do that.' And the inspector looked at me and said, 'Yes, he can do that.'
"It's called stacking and it's illegal and you can't do that. It's creating a cast. We kept going back and forth to the point where he threatened to throw me out of the room. But they put a layer of gauze on and then two or three layers of tape on top of that, and then gauze and tape again. That's illegal," complained Abel Sanchez.
Abel Sanchez feels stacking is illegal, but is it really?
After Abel Sanchez hit out at the commission and Canelo's corner for allowing the stacked hand wrap, Golden Boy Promotions President Eric Gomez clapped back almost immediately.
He made it clear that stacking is not illegal and rather it is the "proper way to wrap". Gomez even highlighted that it is completely in line with the rules and that they would do it again in the second fight.
And, that is exactly what they did.
"It's the proper way to wrap the hands, and it's going to be allowed for the second fight. But we discovered that Abel doesn't know how to read or understand things. It's not illegal to stack, it's just another method to wrap his hands. You're just not using tape or graze, you're using both.
ADVERTISEMENT
Article continues below this ad
"I think it's a little bit of a smear campaign. But [Sanchez] knows the commission would never allow a fighter to fight with illegal wraps. And if it's that case [and the wraps weren't proper], shame on him for allowing his fighter to fight someone with illegal wraps," said Eric Gomez.
Also Read: Who Won GGG vs Canelo 1?: Results, Scorecards, Stats, and Full Fight
ADVERTISEMENT
Article continues below this ad
Enjoyed reading this article? Download our exclusive app to get 24x7 coverage, latest memes and social media banter. Click here to download.