Did Canelo Alvarez Date El Chapo's Ex-Girlfriend Valeria Quiroz?
Published 01/13/2023, 3:15 PM EST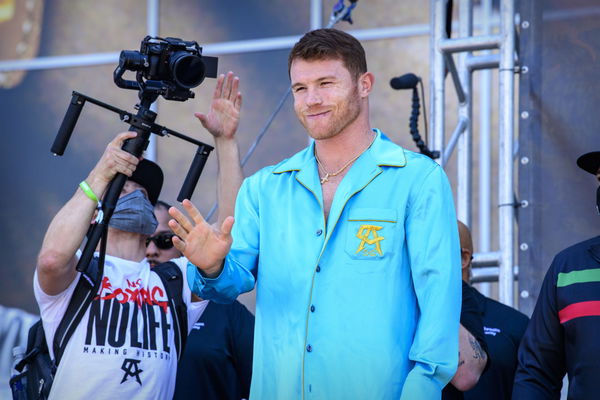 It's safe to say that Undisputed super middleweight champion Canelo Alvarez has dated his fair share of women. The Mexican boxer has had multiple relationships throughout his life which shouldn't be surprising given his fame and status. However, there is one woman that could have been the undoing of his whole life.
Valeria Quiroz was a Mexican model who had a relationship with one of the most feared men on the planet, El Chapo Guzman. Guzman is the head of the largest drug cartel in the world and apparently was in a relationship with Quiroz for almost two years. Moreover, this was during the time he was married to Emma Colonel. However, this was not all as it was also reported that she had a relationship with Alvarez after the drug lord was sent to life imprisonment.
ADVERTISEMENT
Article continues below this ad
Canelo Alvarez and Valeria Quiroz in a relationship?
In 2012, reports came out that Saul and Quiroz were dating with many rumors of them even having a child together emerging, Moreover, this was during the time Alvarez was dating Marisol González, between 2012 and 2014. Quiroz met the undisputed champion two years after splitting up with the drug lord. It was also confirmed that the two did have a daughter together named Mia Ener. However, Alvarez would deny her as his child.
This would then prompt Quiroz to then file a lawsuit against Alvarez, which she won. This led to Alvarez accepting Ener as his daughter after years of legal battles. However, after this legal victory, Quiroz understandably became hidden from the public eye and not much information about her has come out since. According to reports her last whereabouts were in California where she is married with three children.
Is Alvarez currently married?
The Mexican boxer is currently married to Fernanda Gómez who he tied the knot back in 2021. The couple met at a party back in 2016 after which the two started dating. Moreover, they even held a grand ceremony for their wedding in their home country. However, she wasn't the first woman he dated after breaking up with Quiroz.
ADVERTISEMENT
Article continues below this ad
 

View this post on Instagram

 
Alvarez had dated five other women before meeting Gomez. This included Marisol Gonzalez, Kate del Castillo, Cynthia Rodriguez Shannon De Lima, and even his business partner Nelda Sepulveda. However, now at 31 years old, it seems he is finally ready to settle down after a bunch of unsuccessful relationships.
ADVERTISEMENT
Article continues below this ad
What did you think about Alvarez dating Guzman's ex-girlfriend? Let us know in the comments.
Watch This Story: Five Mind-Blowing Things About Canelo Alvarez's Multi-Million Dollar Mansion in Guadalajara